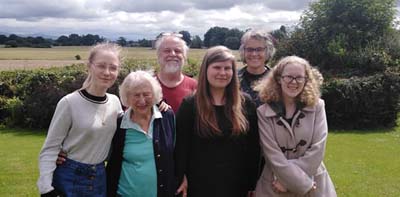 On Tuesday March 10th at 7pm, a film will be premiering at Annan Lonsdale Cinema.  It is part of a project organised by The Devil's Porridge Museum focusing on the wartime experiences of a lady called Bettie (who is now in her 90s). 
During World War Two, she left her home in Carlisle to work in the Women's Land Army in Cumbria and the Lake District.  As a Land Girl, Bettie worked on isolated farms milking cows, became a trained rat and mole catcher and had many memorable and entertaining experiences.
Her story was recorded in an interview conducted by three local young women, this footage was then edited and animated by other local young people and their film will be show in the cinema for the first time next week.
Bettie will be there with her uniform and other objects from World War Two, the young people involved and the film production company will also be there to share their experiences.
The event is completely free but booking is essential.  To book your place: email info@devilsporridge.org.uk or phone 01461 700021.
Thanks to Alan Towers at Annan Lonsdale Cinema for his generosity in allowing the Museum to show this film at his venue.