[vc_video link="https://www.youtube.com/watch?v=7nN6KVAgwK4″]
The team at Newton Stewart Cinema in Dumfries and Galloway held their first ever Midnight Screening of the much anticiapeted  'Marvel Studios – Avengers: End Game'. The event was a sell out, with people travelling from right across the region to watch the latest Holywood Blockbuster.
A Spokes person from the community owned cinema in Newton Stewart stated "Brilliant to see our cinema full at midnight. Hope everyone enjoyed the film?"
The Cinema even organised prizes for the best dressed film fan.1st prize for dressing up goes to Jordan Rennie who came dressed as Groot.
The Cinema is a Community resource and is run by a voluntary Board of Directors on a not for profit basis and relies on audience support for all their events.
Newton Stewart Cinema is  normally open from Wednesday to Sunday showing films . they also have a fully equipped stage for live events.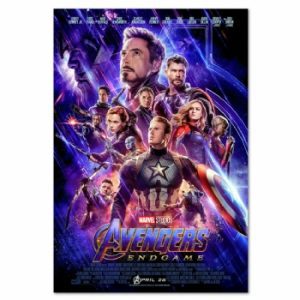 The Move Stars: Chris Evans, Scarlett Johansson, Robert Downey Jr, Chadwick Boseman, Mark Ruffalo, Chris Hemsworth, Brie Larson, Tom Holland
Director: Anthony Russo, Joe Russo
Running Time: 182 minutes
Synopsis:
The grave course of events set in motion by Thanos that wiped out half the universe and fractured the Avengers ranks compels the remaining Avengers to take one final stand in Marvel Studios' grand conclusion to twenty-two films.
Adrift in space with no food or water, Tony Stark sends a message to Pepper Potts as his oxygen supply starts to dwindle. Meanwhile, the remaining Avengers — Thor, Black Widow, Captain America and Bruce Banner — must figure out a way to bring back their vanquished allies for an epic showdown with Thanos — the evil demigod who decimated the planet and the universe.
REVIEWS –
If "Infinity War" was billed as a must-see event for all moviegoers, whether or not they'd attended a single Marvel movie prior, then "Endgame" is the ultimate fan-service follow-up.
A victory lap that moonwalks through the best part of the MCU back catalogue and emphasises emotion as much as action, this is an intensely satisfying piece of blockbuster filmmaking.
Amid all the action and the derring-do, between the hooey and the hokum, there's room for real emotion.
Dates and Times for 'End Game' at Newton Stewart Cinema –
Time
Friday
26/04/2019
19:00
Saturday
27/04/2019
14:00
Saturday
27/04/2019
19:00
Sunday
28/04/2019
14:00
Sunday
28/04/2019
19:00
Monday
29/04/2019
19:00
Tuesday
30/04/2019
18:00
Wednesday
01/05/2019
18:00
Thursday
02/05/2019
19:00
Friday
03/05/2019
19:00
Saturday
04/05/2019
19:00
Sunday
05/05/2019
19:00
Tuesday
07/05/2019
18:00
Wednesday
08/05/2019
18:00
Thursday
09/05/2019
19:00
The Management of The Cinema reserves the right to change the programme at short notice. 
If in any doubt as to which film will be playing and you are travelling a long distance to see a particular film please check with the box office first on 01671 403333.