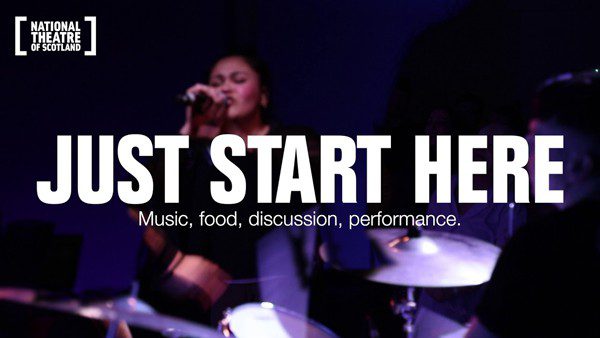 Mini-festival will take over three spaces in Dumfries, showcasing work-in-progress theatre, discussions, and music from artists including Katherina Radeva, Sean Wai Keung, and Mele Brooms.
Discussion panels and provocations on artist-community relationships, working as an artist in the gig economy, and the future of performance in Dumfries will feature contributions from Nic Green, Stewart Laing, and Alan Lane of Slung Low.
Two-day event will also feature pop-up performances on the streets of Dumfries, group discussions over food and drink, and music performances from SUE ZUKI and Ashanti Harris.
Just Start Here, the National Theatre of Scotland's pop-up festival of Scottish artists and collaborative performance, returns for its third year in 2020. Taking place in Dumfries on 28 and 29 February, the festival will be presented in collaboration with high street venue and pioneering artistic community organisation The Stove Network.
The two-day festival will feature contributions and new work-in-progress theatre and performance from Dumfries-based Scottish talent, along with live music, discussions, food and drink, and creative happenings throughout the town.
Micro-festival Behavin'? will take over the streets of Dumfries, with artistic happenings in locations throughout the centre and beyond to invite audiences to peer beneath the belly of the town and experience a new kind of experiment with public space.
As well as pop-up performance out on the high street, Just Start Here will take over three spaces in the town: disused shop-front turned gallery space The Oven, local social and working men's club The Railway Club, and Stove Network HQ The Stove. There will be pop-up performances of Lone Wolves, a new project from artist Katherina Radeva of multi-award-winning theatre company Two Destination Language, as well as a new solo work from award-winning choreographer and performer Mele Broomes. Dumfriesshire-based musician Stuart Macpherson, filmmaker Emma Dove, and sound recordist Pete Smith present the latest iteration of their Solway to Svalbard project exploring the links between Dumfries and Galloway and the High Arctic.
Just Start Here will also see contributions from artists and groups such as Ashanti Harris, Sue Zuki, //BUZZCUT//, as well as live music performances, provocative talks, discussions and debates led by Nic Green and Stewart Laing on the arts' relationship to place and community, and how artists can successfully navigate the "gig economy" of the sector.
Just Start Here is a playground for Scottish artists: a space to share and generate ideas, art and provocations, and to spark new collaborations across art-forms as well as offering a curated and supported platform for bold, vital work to find its feet in front of an audience. The festival was first staged in Glasgow in January 2018, and last year took place in Aberdeen in partnership with Citymoves.
Just Start Here is part of Engine Room, the National Theatre of Scotland's nation-wide programme of artistic development opportunities. Engine Room aims to bring artists together to develop skills, networks and create new work at the greatest reach of their imaginations and ambitions. Engine Room and Just Start Here are supported by the Esmée Fairbairn Foundation.
Join the conversation: #JustStartHere
Event Information
Friday 28 Feb
WHOSE HOOSE IS THIS? (Discussion): A discussion highlighting innovative examples of artist-community-place relationships. Discussion will be led by Nic Green, and feature Alan Lane (Slung Low) with more speakers to be announced.
ELSEWHERE- BEHAVIN' (Performance): Welcome to Elsewhere. Dumfries' streets are the testing ground for a series of site responsive and improvisational live art experiments treading the humorous and joyful to the sonic, surreal and dangerous. Armed with a set of locations throughout the town from High Street close to graveyard, river and ruin. Micro-festival Behavin' invites you to peer beneath the belly of the town and experience a new kind of experiment with the public space. Taking place at various times throughout the day.
CHOW AND A CHAT- ALAN LANE (Discussion): A conversation with your dinner. Chow down with Alane Lane of Slung Low as we host a communal dinner conversation. Catered by The Stove, food will be vegan and gluten-free and is included in tickets for the afternoon session.
LONE WOLVES (Performance): Popping up around the festival, Lone Wolves is an act of resistance against marginalisation, performed by a Thracian migrant woman. As the detritus of daily life is washed away, we discover invisible identities. A new solo performance from multi-award winning Two Destination Language's Katherina Radeva, whose Fallen Fruit is currently touring Britain after being named one of the Guardian's "best shows in the Edinburgh Festivals 2018."
ASHANTI HARRIS (Music): Ashanti Sharda Warrior Goddess of Knowledge and Creativity is a musical masquerade of visual artist Ashanti Harris, whose artistic practice embraces dance, performance, research and activism. Ashanti's DJ sets are a carnival of tumultuous Soca and Dancehall classics to heat up the dance floor and make your body move.
FROM SOLWAY TO SVALBARD (Performance): A creative response to the spring migration of the barnacle geese from the wetlands of the Solway Firth in South West Scotland to the Islands of Svalbard in the High Arctic. The project captures the different environments and communities that are encountered by the geese on their unique journey and how, despite the distance and stark contrast in landscape, we are intrinsically linked to the polar regions.
Saturday 29 Feb
GIG ECONOMY (Discussion): A discussion focusing on the creative and financial imperatives and possibilities for a multiple practice led by Stewart Laing with speakers including Alicia Matthews, Ashanti Harris, and more TBC.
CHOW AND CHAT- BUZZCUT (Discussion): A conversation with your dinner. Chow down with BUZZCUT as we host a communal dinner conversation, asking "What's next for performance in Dumfries?" This will be an open forum for anyone interested or invested in Live Art (or performance) to meet, eat and generate action about how we can best support and sustain a context for artists and audiences – making connections across the city & across Scotland. Catered by The Stove, food will be vegan and gluten-free and is included in tickets for the afternoon session.
SUE ZUKI (Music): Alicia Matthews (SUE ZUKI) is a Glasgow-based sound artist working with live performance, theatre, moving image and installation. Currently her practice is informed by research into psycho-physical online habits, randomisation and notions of glitching. Her sometime confrontational works have been performed to audiences around the UK and internationally at galleries in Lublin (Poland), Guangzhou (China), New York and at the Venice Biennale. Alicia hosts a monthly show on London's NTS radio under SUE ZUKI moniker where she curates an experimental and uncompromising mix of industrial, no wave, spoken word, field recording, techno and metal alongside samples from popular media.
FORTUNE- SEAN WAI KEUNG (Performance): A murder with no justice; a biracial writer who is always hungry; an after-meal snack which can predict your future. Fortune is about misidentification, misinformation and misappropriation, and will present a 3-in-1 munchy box of real-life stories for your consumption. Previously showcased at Anatomy Arts Scratch Night, Fortune has continued its development thanks to artistic support from National Theatre of Scotland and culinary support from the Silk Road Oriental Food Brands delivery service.
WRAPPED UP IN THIS- MELE BROOMS (Performance): A new solo work that combines, dance, experiential vocals and lyrical poetry. Mele aims to create a live performative like gig accompanied by a bespoke sound track whilst embodying a technological polymorphous costume. A sometimes identifiable and seemingly extraneous character who has worked for nearly a century supporting the daily activities of the human species. Now they speak through a laborious and beautiful journey of malfunctioning as their form begin to dematerialise. Commissioned by Contact, Live Art UK Diverse Actions and Black Gold Arts, the full work will be presented in Manchester in June 2020.
Listings information
FRIDAY 28 FEBRUARY
2.30PM – 7PM
– Discussion: Whose Hoose Is This? – Nic Green @ The Stove
– Performance: Elsewhere Pop Ups – Behavin' @ The Stove
– Discussion: Chow & Chat – hosted by Alan Lane (Slung Low) @ The Stove
7PM – 11.30PM
SATURDAY 29 FEBRUARY
2.30PM – 7PM
7PM – 11.30PM
Tickets
Day tickets: £5 | 2.30 – 7pm
Evening tickets: £5 | 7 – 11.30pm
Ticket booking and information available at www.nationaltheatrescotland.com
Access: BSL British Sign Language interpreted performance/ Autism Friendly/ Wheelchair Accessible