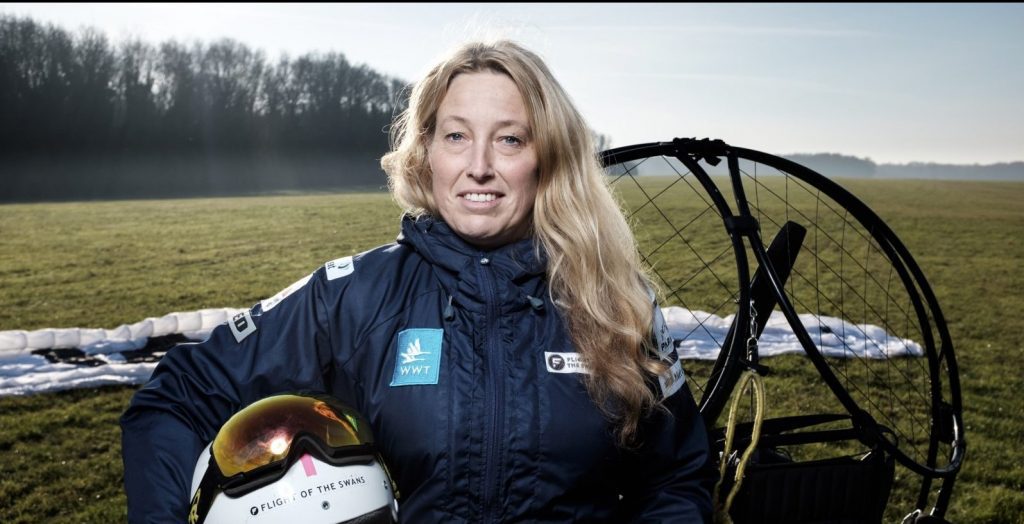 Naturalist Sacha Dench, The Human Swan speaks at Wild Film Festival Scotland after epic motorised paraglider flight from the Arctic to the UK.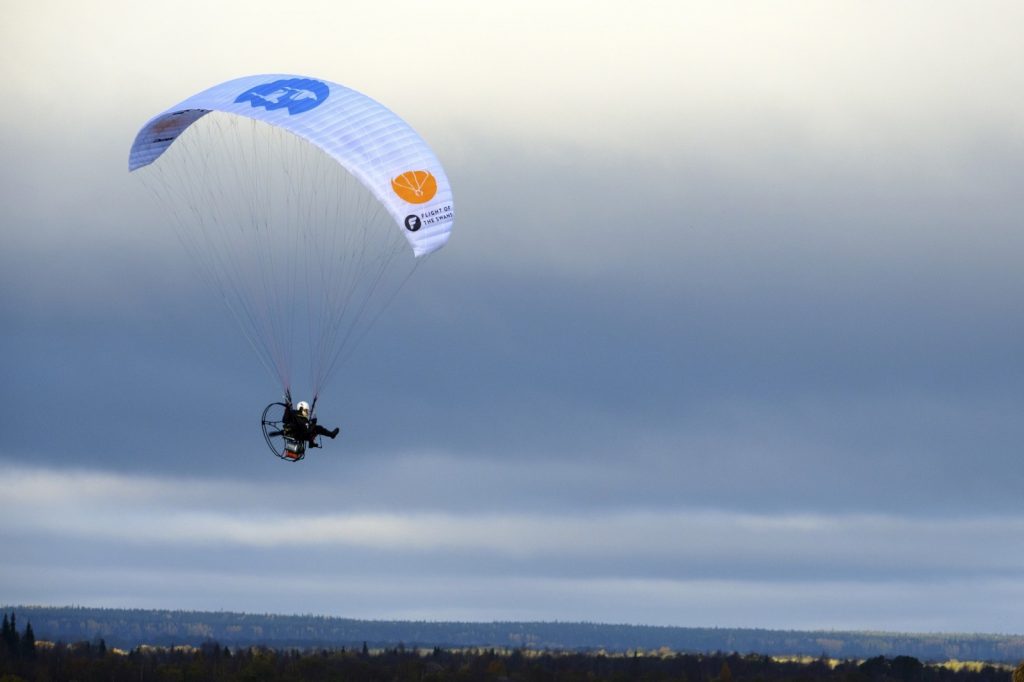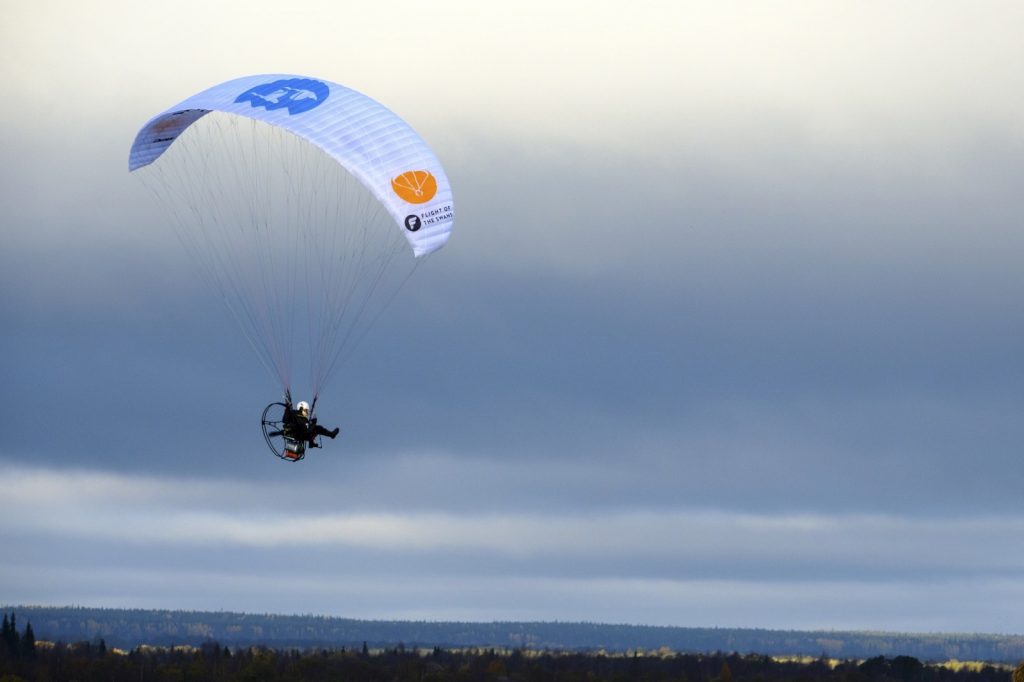 Sacha Dench "the human swan" is heading to Scotland to speak at a new wildlife film festival while planning her next epic flight "from tip to toe of the Hebrides".
The biologist, and head of media for the Wildfowl and Wetland Trust (WWT), made worldwide headlines last year for her 4,500 miles motorised paraglider flight from the Arctic to the UK following the migration route of the endangered Bewick swan.
This month she will be bringing her flying machine to Dumfries where she will be one of the celebrity guests at Wild Film Festival Scotland (WFFS) – hear her speak on Sunday 26, March, 2.30pm at the Robert Burns Centre.
Sacha will also be making preparations for a planned "just for fun" paramotor flight the length of the Hebrides in May – supported by a team on a tall ship. Research suggests that it may be the first time the feat has been attempted.
She is also likely to visit the WWT reserve at Caerlaverock, Dumfries and Galloway, which is renowned for its work in bringing back another famous migratory bird, the Svalbard barnacle goose, from the edge of extinction.
Sacha, who was brought up in Britain and Australia, says: "I love Scotland and have spent a lot of time there working on WWT projects and doing aerial photography.

"It's such a beautiful country. I have been to Harris and Skye and have always wanted to explore more of the islands, so when I was thinking about my next flight I thought it would be amazing to fly from tip to toe of the Hebrides.

"It will be a brilliant way to enjoy those really challenging environments – the rugged peaks and the sea."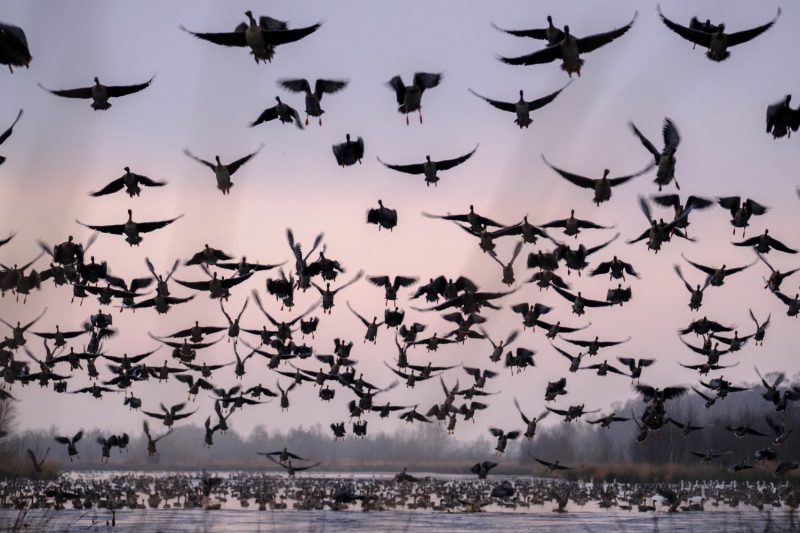 Last year's Flight of the Swans saw Sacha become the first woman to cross the English Channel in a paramotor – a journey in which she crossed 11 countries.
The idea was to meet communities along the way and discover why Bewick swan numbers are in catastrophic decline and why, despite legal protection, around 28% have shotgun pellets in their flesh.
Hopes are now high that the expedition will raise awareness and change behaviour.
Sacha said: "The reception we got was quite remarkable with schools, communities, mayors and ministers coming out to meet us.

"What really seemed to impress them was that we had come so far, to such remote places, to see them and talk to them and that we cared so much about the swans.

"It seemed to generate this Mexican wave of enthusiasm about the swans – and they are such an exciting bird – so hopefully it will make a difference."
Flying at altitudes of around 300 feet, one of the greatest challenges was the temperature. At some points she had heated gloves, heated sachets in her boots and was wrapped in nine layers of clothing and it still felt cold.
For personal reasons the very fact that she even considered such a flight was astonishing.
Sacha ( The Human Swan) had developed a severe fear of turbulence after a frightening incident when a small aircraft heading for an island off South America got into difficulties in bad weather – and fellow passengers began to pray.
She said: "After that if there was any turbulence when I was on a plane I would end up clutching someone's arm – and that's just not me."
Determined to overcome the fear she learned to paraglide, then took to paramotors, and says that after two years she forgot her fear and it become a joy.
Sid Ambrose, WFFS Manager, said: "Sacha's human swan story is hugely inspirational – and there are clearly no boundries to her love of the natural world.

"We are proud to have her as one of our festival guests and know people are going to be really keen to come along and meet her."
WFFS takes place in from 24-26 March and its central themes will be Amazing Journeys, Wild Places and Rewilding. Some 30 films are being screened, many of them winners of coveted Wildscreen Panda Awards (the wildlife Oscars).
Naturalists and broadcasters Simon King (Big Cat Diary) and Iolo Williams (Springwatch) will be among the 20 speakers. Sacha will be appearing at The Theatre Royal, Dumfries, on 26 March.
Wild Film Festival Scotland is being made possible due to a series of partnerships. Our funders and supporters include the Rural Dumfries and Galloway LEADER Programme, Dumfries and Galloway Council and The Hollywood Trust, The Scottish Rural Development Programme and e-on
Images credited to Ben Cherry