Opera Bohemia continues in their mission to bring more live opera to Scotland and more opportunities to young professional singers and musicians, with their new production for 2018, Verdi's comic masterpiece, Falstaff. The production travels to twelve venues round Scotland throughout July and August, coming to the Theatre Royal Dumfries on Thursday 9th August as part of the Absolute Classics Festival.
Opera Bohemia was founded by Fife born baritone Douglas Nairne and Glasgow born conductor Alistair Digges. Now in its ninth year, the company has given one hundred and sixteen performances of fully staged operas and provided performance opportunities for well over a hundred young professional singers and musicians in Scotland. One of the original goals was to try and introduce opera to a new audience, as well as providing more live performances for opera lovers. The company have developed a special relationship with Dumfries and Galloway over the years, bringing there productions to the area each year.
Last year the company launched its first education project, taking opera workshops to schools all round Scotland. They have just completed the second year of this highly successful project which has received glowing feedback form students and teachers across the country. This year the sessions involved four hundred children across fourteen schools, in all the areas that the new production of Falstaff will visit. The workshops are offered to schools for free and are a fun introduction to opera and classical music. The sessions aim to challenge the unfair stigma often attached to the art form, and also tie in with the school music curriculum.
The company hopes to tempt even more people to give opera a try this year with their new production of Falstaff, the final opera written by Giuseppe Verdi. Based on Shakespeare's Merry Wives of Windsor, the opera revolves around the unlikely, plump protagonist, Sir John Falstaff and his farcical attempts to seduce women in order to gain access to their husbands' wealth. With rhythmic pace and beautiful melodies, Falstaff is as energetic and exciting musically as it is dramatically.
Award winning director Adrian Osmond and designer Kenneth MacLeod team up to create a dynamic new production with a star studded cast including former Scottish Opera emerging artists Andrew McTaggart and Hazel McBain and Opera Bohemia favourites Douglas Nairne and Catriona Clark. The performance will be sung in Italian with English surtitles and are accompanied by The Opera Bohemia Ensemble, under the baton of Alistair Digges. Both the cast and orchestra include a large percentage of Royal Conservatoire of Scotland alumni, providing vital professional performance opportunities in Scotland for music graduates.
Get Your Tickets HERE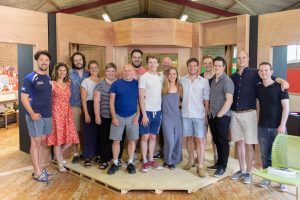 Cast and Production Team
Falstaff – Andrew McTaggart
Ford – Douglas Nairne
Alice Ford – Catriona Clark
Nannetta – Hazel McBain
Meg Page – Fiona Mackenzie
Mistress Quickly – Susan Moore
Fenton – Seumas Begg
Dr Caius – Christian Schneeberger
Bardoflo – Kenneth Reid
Pistola – Jonathan Sedgwick
Director – Adrian Osmond
Designer – Kenneth MacLeod
Musical Director – Alistair Digges
Opera Bohemia Ensemble
Piano – Andrew Brown
Performance
Thursday 9th August 7.30pm (orchestral performance)
Dumfries, Theatre Royal
Tickets from Midsteeple Box Office
https://www.theatreroyaldumfries.co.uk/whats-on/opera-bohemia-falstaff
www.operabohemia.co.uk
SCOTTISH CHARITABLE INCORPORATED ORGANISATION SC046576
Comments
comments