Html code here! Replace this with any non empty text and that's it.
Living in D&G I get the chance to pop in for a cuppa and a catch up with the most interesting, talented and wonderful people and I can't wait to introduce you to them.
Even though we've had a really busy month with gigs, I've managed to drop in for a cuppa and a chat and find out what's going on in my neck of the woods over in Wigtown.
But first, I thought you'd like to know about The Tee Room at Craigieknowes Golf Course in Kippford. Opened in April this year.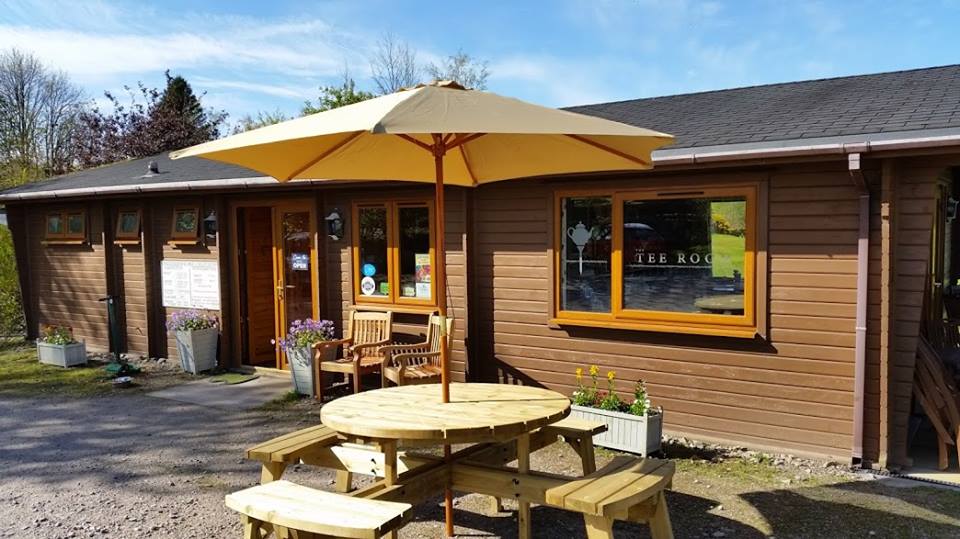 So, I went along with my mumpreneurs to check it out and we all gave it a big thumbs up. The warm friendly tea room is set in the grounds of the 9 hole par 3 golf course, but you don't have to play golf to enjoy their cream tea. The tea room is open to all including our four legged friends. I would recommend popping in next time you're in the area. You're sure of a warm welcome from Aylett Roan and her team and I love the name, very clever!
I mentioned earlier that there's lots happening here in Wigtown in the coming weeks as we gear up for the Wigtown Book Festival at the end of September and I managed to catch up with two people getting ready for the upcoming festivities.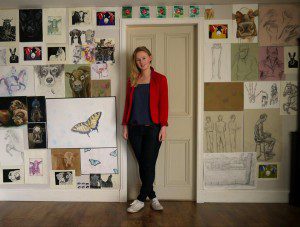 After weeks of preparation and hard work, local artist, Emily Nash had a studio launch last weekend and we went along to wish her well. Emily's Designs is a collection of hand drawn greeting cards, printed mugs and framed originals, all in the theme of farm animals and dogs. Pop in and see her on Lochancroft Lane or find her at Emily's Designs on facebook.
And if you've always dreamt of running your very own bookshop by the sea, then you'll love my last offering. The Open Book is a charming bookshop with apartment above in the heart of Wigtown, Scotland's National Book Town and it's available as a bookshop holiday/residency experience.
Described by the Daily Mail as "the perfect holiday for literature lovers", the project has already had lots of interest and guests so far have included: a librarian from Oregon, in the US, a Dutch civil servant and a couple in their 80s who had always wanted to run a bookshop.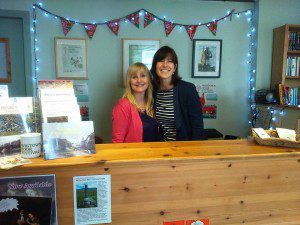 We met the lovely Ben Please and Beth Porter from The Bookshop Band, which writes and performs songs inspired by books, when they ran the store in January and they certainly put their mark on the place. I remember wonderful music and lots of cake.
I popped in for a cuppa with author and film director Jessica Fox who is looking after the shop just now. Jessica originally from the US fell in love with Wigtown and its inhabitants and wrote her first novel Three Things You Need to Know About Rockets based on her experience of moving from Hollywood to this little book town by the sea.
You can find out more about the Open Book project on their facebook page. It sounds like lots of fun and I can't wait to see who comes to run it next.
Attached Photos: Tee Room, Emily,



At the beginning of this month we were in Edinburgh and I decided to use this opportunity to start to vlog! It's something I wanted to create for a very long time but, I'm such a perfectionist, I've dreaded getting round to doing it. I've tried to get all my weirdness in, though I still think I'm a little more bizarre in the real world. However I'm absolutely chuffed that something of reasonable quality fell out of my brain (granted, it took a day of editing to make me look slightly more sane), and I will definitely be doing more.
Ah cities. I've been in a couple of these recently. I like cities, I do. With their large selection of restaurants, cafés or bars displaying an exotic array of tea, some I've never heard of before, the constant buzz of things going on, knowing you could walk anywhere and stumble upon something completely unexpected, especially during the Edinburgh Festival. And of course, no smartphone user can deny the luxurious feeling when first connecting to 4G after living on 2G and flaky wifi. Don't even get me started on rural download speeds.
But despite all that, the one thing that makes me love this area even more is driving back into it after spending even just a day in a city. I really enjoyed my time spent in Edinburgh, as you can tell in my vlog, but it's always nice to be home. Calm, quiet home.
The track I've had on repeat this month as I start a new crime novel and dance around the kitchen is 'Glasgow-based producer and all-round pop-polymath' Miaoux Miaoux's latest single, Luxury Discovery. Experienced them the first time at Electric Fields last year and have since seen them twice at Dumfries Music Conference and Wickerman! They're back at Electric Fields THIS WEEKEND. Definitely, definitely recommend! If you're there, be sure not to miss and get your hands on their new album too: http://shop.chemikal.co.uk/acatalog/CHEM222.html
[vc_video link="https://www.youtube.com/watch?v=_zhs7o_GNUs"]

About Time
I picked up a copy of this film for two reasons: It's a Richard Curtis film and it's got Bill Nighy in it. If that's enough reason for you to watch it then read no more because suffice as to say that they're both on form and you won't need my ramblings to further convince you.
Typical of Curtis this is a bitter sweet film with the emphasis on sweet and the usual large doses of quintesentially British humour and a twist of heart wrenching pathos. The story centres around a young man, Tim, played by Domhnall Glesson (Bill Weasley from Harry Potter) who discovers that he can time travel.
As his father explains, wonderfully portrayed by Bill Nighy, this is a gift that the men in his family have been given. It allows them to travel back in time within their own lifetime and alter their own past. Urged not to use it for financial gain or fame by his father, Tim decides to sort out his rather pathetic love life.
About Time is essentially a love story with a bit of time travel thrown in for comic effect but I don't want to tell you any more of the plot for fear of spoiling it but be prepared to giggle, cringe, laugh out loud and maybe even cry. Yes, this is a Richard Curtis film afterall.
And a quick word about the supporting cast. All are quality with special mentions to Bill Nighy (did I already say that I like Nighy?), Lindsay Duncan as Mum and Tom Hollander (Rev and Pirates of the Carribean) as the drunken, bitter friend of Dad.
In short, recommended. Don't take it too seriously. Don't look for plot holes (it's main theme is time travel for Pete's sake, it's a work of fiction and requires you to suspend your belief for the duration) Take it at face value and just enjoy.
[vc_video link="https://www.youtube.com/watch?v=7OIFdWk83no"]