I have been attending Wickerman festivals on and off since they first started 14 years ago, over these years I have developed a huge fondness for this spectacular event which is within hearing distance of my home, and walking distance if I'm really keen. Although music festivals are not everybody's cup of tea, and probably 14 years ago were not something I thought I would enjoy much, I always thought to myself "well it's happening on my doorstep, I better join in!" Which is a decision I'm so pleased I made, as the Wickerman introduced to me to a world that opened my mind to new music, new friends and now a passion for photography.
When I first started DGWGO 4 years ago, the then owner of the Wickerman site 'Jamie Gilroy', who sadly passed away in December 2014, approached me thanks to ex West Sound Radio Breakfast Show presenter 'Bruce McKenzie' to discuss ways that DGWGO and the Wickerman festival could work together. Over the years since, I became friends with Jamie and his family, and still work very closely with the new person in charge 'Jennie Camm' Jamie's daughter , who has bravely taken over the reigns to keep the festival going for us all to enjoy, hopefully for many more years to come.
After Jamie's tragic death last year there was great speculation as to what the future may hold for the Wickerman festival, and I'm very sure it could hve all easily become something of the past , that we would just remember as something that happened for a few years when we were younger.  Thanks to Jennie and her team the festival continued and this year saw thousands of colourful festival goers of all ages arrive once again at East Kirkcarswell Farm, Dundrennan to join in and enjoy a magical weekend.
For me personally the festival was something special this year, although it felt completely different and had a very relaxed vibe compared to more recent years, I'm not sure if this was down to the change in the management team and style of security, the changes to the festival site layout,  or whether it was maybe just that people were so pleased that the event was continuing after sad news, that everyone had just taken a huge breath and decided to relax and enjoy the party.   With the Sun shining for most of the weekend and some fantastic bands in the line up, it had the great recipe for being as good, if not bigger and better than ever before.
Day one of Wickerman (Friday 25th July)started as a small disappointment for me as The Sugar Hill Gang and support  had to call off , due to the death of one of their band members death. But after a slow start on the main stage in the afternoon , we had one of Team DGWGO's Highlights of the whole weekend come on stage,"The Stereo MC's" Who gave their set 100% and had the crowd lifted within the first song , and when they sang 'Connected' the crowd was absolutely bouncing. Other Friday highlights include Lulu's intimate set in the new Piano Bar tent  plus her performance on the main stage, also when headliners The  Waterboys performed their epic track 'Fisherman Blues' under the D&G stars.
On The Saturday we returned to the arena again in the afternoon and the  Summerisle Stage produced another brilliant day of music with the first set we saw of the day from 80's pop rebel Neneh Cherry, also talented singer songwriter Tom Odell who really did make a grand piano rock when he played  'Another Love.'  But The Highlight of the day for us was  reggae superstar Jimmy Cliff who delivered a unforgettable string of hits, including 'Wonderful World, Beautiful People' and 'You Can Get It If You Really Want' and many many more.   Rap star Example and DJ Wire rounded the evening off and electrified the main arena with his confident banter and lively jumping around on stage , although his language was a bit colourful at times.
This year team DGWGO consisted of myself , LC and 11 year old MJ who had never attended the festival before , She said " I really enjoyed the Wickerman Festival, as it was the first time I had experienced being there. Compared to other festivals I have attended this was by far the best one yet!"
"I loved all the music that was played and also listening to some of the older bands playing. With all the different stalls and food it was such an amazing experience even though I was hanging out with my mum most of the time;) , and to top it all off they ended the festival on a spectacular note with the burning of the massive Wickerman, the fire works were absolutely amazing."
With MJ and LC coming along with me this year , it was really the first time that I had experience the festival from a family point of view first hand. I have to say, we had a fantastic weekend, I was so pleased the girls both enjoyed the festival as much as I did and always have done, not just for the music, but for the whole experience, everything from people watching and trying to spot the best and weirdest outfits and hats, to tasting all of the wonderful festival food on offer, and struggling to decide which stall to eat at next, to me that is what festivals are all about,- having fun, creating memories, laughing with old friends and making new ones. Which is exactly what the festival felt like, I felt as though I had said goodbye to the  Wickerman's of the past, and hello to a new version, a new festival, a new friend. I felt so overjoyed that 11 year old MJ enjoyed her first ever Wickerman, and that it is now something that she cannot wait to do again next year; she even said on Sunday morning that she was sad that it was a normal day and no more Wickerman.
As always though the highlight of the Saturday has to be the burning of the 40ft Wickerman himself, this year 17,500 Festival fans watched the flames of Wickerman's iconic  statue burn brightly to celebrate the close of the the biggest party of the year in Dumfries and Galloway. The Fireworks were stunning this year, and they really are a a great way to end what has to be one of the best events of the year in our region.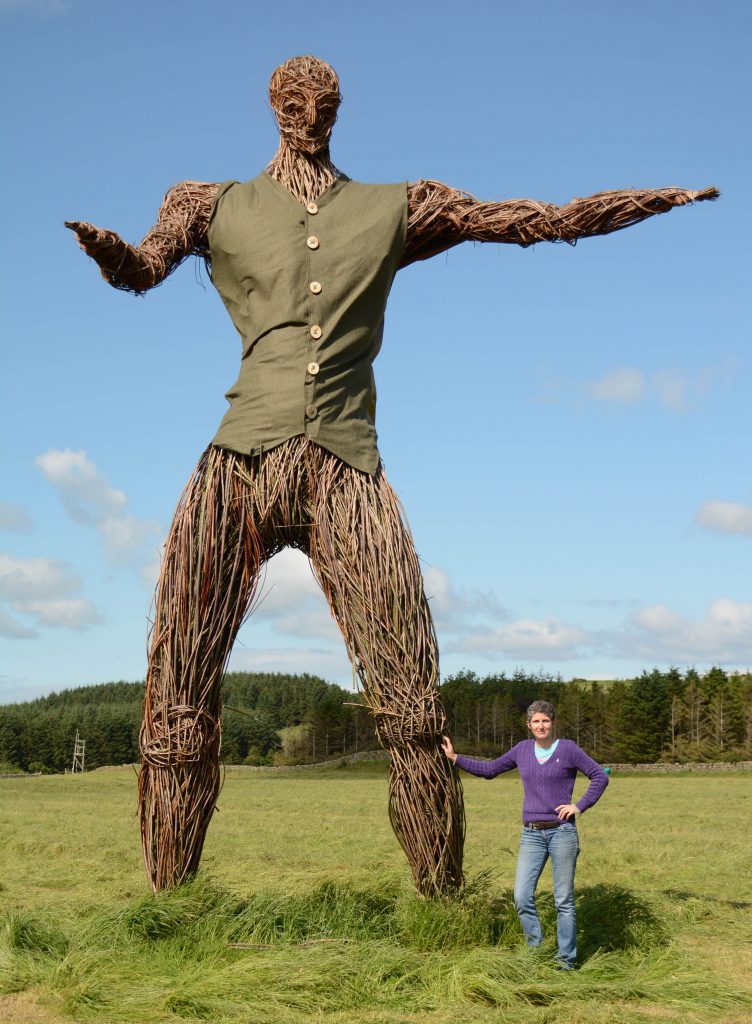 Wickerman's Festival Director Jennie Camm says:
"Wickerman 2015 has been a real success and all our team's hard work and planning has really paid off. This year we were really keen to enhance the festival experience with exciting new tents and artists along with improved on-site attractions to give our festival goers the best weekend possible.
This year's line-up is one of our strongest yet and has been well received by our loyal festival goers. We are delighted to have hosted such a variety of new and established artists and want to thank them for making this year's Festival one to really remember."
So, all in all, team DGWGO want to give the Wickerman festival 2015 top marks , we cannot compare it to Wickerman festivals of days gone by as we feel this is a re-birth a new festival rising from the ashes of the burning of last years Wickerman.   So roll on summer next year, we await the surprises Wickerman 2016 has in store for us.
Team DGWGO
Pictures Copyright R.B Photography