A Perthshire playwright and Dumfries poet are joining forces for a groundbreaking performing arts initiative at Scotland's oldest working theatre, Theatre Royal Dumfries.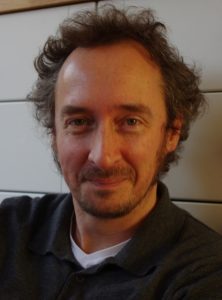 Giles Conisbee, from Pitlochry, and police officer turned poet JoAnne McKay have been selected for the third of four Play, Poet and Pastry (PPP) evenings that offer world premier drama, brand new poetry and a live post-performance discussion.
Taking place for one night only at the Theatre Royal, on Friday 26 January, the event will centre on Giles' newly written play called Freckle which explores the limits of love.
A Play, A Poet and A Pastry has been devised by Dumfries and Galloway-based Bunbury Banter Theatre Company to bring high quality theatre and poetry to audiences in south-west Scotland.
It's also designed to generate a genuine sense of spontaneity throughout. The poet's task is to respond to the play – and have a strictly limited time in which to work.
The two-person cast (unveiled next week) faces an even stricter challenge, having just a fortnight and two rehearsals before going on stage.
Philip Anderson-Dyer, Producer and co-founder of Bunbury Banter, said: "Live art is always challenging, but we have designed PPP to push this much further in order to get the freshest possible performances – and it's proving a great success.

"The first two events went down a storm with the audiences and Freckle will hopefully build on this as it involves another exciting playwright, and a highly accomplished poet, and focuses on compelling emotional themes."
Freckle introduces the audience to Stevie and Aoife, a couple whose lives are engulfed by a horror from their past.
Married, mortgaged, model parents – they were just like the rest of their suburban neighbourhood. They are now back together after an enforced separation and trying to put their lives back together in a world awash with guilt, pain and regret; recriminations as much a part of the household as taking the bins out and making the school run.
As the gulf between them widens, reaching out to each other and bridging the chasm seems harder than simply slipping into the abyss.
The performances will be followed by a discussion involving the cast, playwright and poet in the theatre's studio over pastries.
Bunbury Banter are specialists in new and experimental theatre and have recently produced Blackout to much acclaim, worked with the National Theatre of Scotland on the Five-Minute Festival, and a web-based audio production called Mortar which starred Timothy West, Prunella Scales and Nichola McAuliffe.
A Play, A Poet & A Pastry involves the semi-staging of the plays. It is supported by the Holywood Trust, DGU's Regional Arts Fund and Dumfries and Galloway Arts Live. The pastries are provided by the Marchbank Bakery.
Comments
comments