Galloway writer Stuart A. Paterson has received a grant from The Galloway Association of Glasgow, which has enabled him to travel to South Africa on May 28th for one month to talk about his native Scots language & his poetry about the Dumfries & Galloway region.
The Galloway Association of Glasgow is a charitable trust formed in 1791. Its aims are to aid charitable, benevolent or educational purposes associated with Galloway and to encourage a love for and interest in Galloway. Membership is drawn from ex-Gallovidians, people who have relatives from Galloway or who have developed an interest and love of the area.
Stuart is based in Grahamstown, Eastern Cape Province, where he's carrying out a series of seminars, readings & workshops on his native Scots language & his poetry about Dumfries & Galloway region, which forms the content of two of his recent collections from Indigo Dreams Publishers, Border Lines (which won the 2016 Saboteur Award in London for Best Pamphlet) and Looking South (2017). The former BBC Scotland Poet in Residence now runs the successful High Street Writers Group at The Stove and carries out many workshops in schools throughout Scotland, through the Scottish Book Trust's Live Literature scheme, encouraging all age groups to engage in and explore their own everyday Scots language. The visit has been co-organised by former Poet Laureate of Cheshire, Harry Owen, who has lived in Grahamstown since 2007.
2019 is the International Year of Indigenous Languages. Paul Wessels, who teaches Rhodes University's MA in Creative Writing, says "Apart from the technical aspects of writing and knowledge of his region of Galloway that Mr Paterson's seminars will deliver, we also hope to show our students (not only those writing in isiXhosa) that their struggles with language are not parochial but are shared by others across the world." Stuart is currently giving a series of lectures and seminars to students and staff from the university's MA in Creative Writing programme. Dr. Hleze Kunju has called Stuart's lecture on Scots language on June 12th "a great success", with Stuart showing his film-poems and reading from his own work in Scots, as well as talking about the history, litetature and dialects of Scots including in Dumfries and Galloway.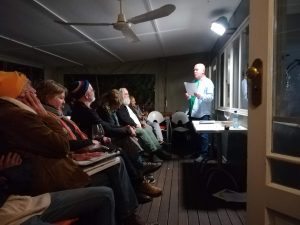 Stuart has already delivered a week of workshops on poetry and language to several classes of Year 10 and 11 pupils of St. Andrew's College, founded in 1855 and with strong Scottish links including its own pipe band. He has given a reading of his poetry to a sell-out crowd at Grahamstown's monthly spoken word event Reddits. And on June 7th, he took part in what might be the world's first joint isiXhosa-Scots performance, at Amazwi, the South African Museum of Literature. Stuart performed alongside local Imbongi (praise poets) Dumisa Mpupha, Mandla Dyakala and Dudu Saki. The event was organised and filmed by local newspaper Grocott's Mail, South Africa's oldest independent newspaper.
Stuart has also contributed a poem to upcoming anthology Coming Home: poems from the Grahamstown diaspora, a new anthology published by Amitabh Mitra's Poets Printery. In the course of family history research, Stuart discovered links between Grahamstown and the 'lost village' of Grahamston in Glasgow, demolished in the late 1870s to allow the new Central Station to be built. On his return, Stuart will be speak at the Galloway Association of Glasgow's Annual Dinner in Gatehouse of Fleet on October 5th.  He will give a short talk on his visit to and activities in South Africa
From my Galloway Association of Glasgow application:
"The project itself entails workshops, seminars and readings on the subjects of my home area of Galloway and the Scots language. I have a publishing history in the RSA with poems appearing in a variety of national literary publications going back to the 1990s and was asked last year to write a poem for a new anthology celebrating the history of Grahamstown. This resulted in the town's poetry organiser Harry Owen asking me to visit to carry out a series of events reading my own work about my home region of Galloway, its cultural, social and linguistic history (Scots/Gaelic), as well as delivering seminars and classes on Scots language, in this the international Year of Indigenous and its relevance to Eastern Cape's own threatened minority languages such as isiXhosa. My visit will build on extant links between Grahamstown and Scotland, with emphasis on promoting the culture, history and languages of Galloway through education and arts."
Galloway Association of Glasgow – http://www.gallowayassoc.org.uk/
Rhodes University –
https://www.ru.ac.za/isea/macw/aboutmaincreativewriting/teachers/paulwessels/
Harry Owen – https://about.me/harryowen
St Andrew's College – https://www.sacschool.com/
Reddits – https://thegrahamstownproject.com/2018/06/30/reddits-poetry-evening-2/