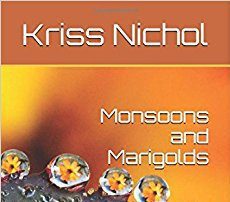 Dumfries and Galloway Council's  Library Service is delighted to host local author Kriss Nichol as she introduces her new novel Monsoons and Marigolds at Libraries across the region.
This tour will provide our communities with the opportunity to hear a local author introduce their books.  Councillor Tom McAughtrie, chairman of the Communities Committee said;
"It is great to see a local author publish their second novel and I am sure the launches in our libraries will be a great success."
Monsoons and Marigolds is set amidst the political turmoil of 1990s Nepal, this novel explores those times from the viewpoint of a conflicted individual struggling for a sense of belonging in an alien culture.  But it is also a novel about stories: those we are told, those we tell others, and those we tell to ourselves.
Monsoons and Marigolds was Highly Commended for the Luke Bitmead Bursary Award 2016 and is Kriss Nichol's second novel.
Free event, everyone most welcome.
Castle Douglas – King Street, Castle Douglas – 2pm on Tuesday 21 March
Georgetown – Dumfries- 11am on Thursday 30 March
Lochthorn – Dumfries – 2pm on Thursday 30 March
Comments
comments