The Dumfries and Stewartry Cider Pub of the Year 2019 award has been awarded to the Robert the Bruce (Wetherspoons) in Dumfries who have dedicated at least two hand pumps for the sale of real cider.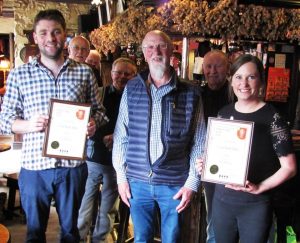 This year the overall winner of the Dumfries and Stewartry Pub of the Year is Clachan Inn, in St John's Town of Dalry, which also took the Stewartry area Pub award. A group of local CAMRA members presented the awards to Laurie Burnie and Phil Papworth on 4th May.
Chairman of the local CAMRA group (Campaign for Real Ale), Trevor Hayward, explained how the CAMRA awards have been decided: "We have around 120 members in our branch and they are all invited to vote fortheir nominated Pub of the Year. We then take all these nominations along with beer scores submitted throughout the year via the CAMRA Whatpub system for the quality of real ale being sold to decide on the winners. Our Dumfries and Stewartry branch region is large, so we split the voting into three areas: Dumfriesshire, Dumfries Town and the Stewartry and select three area winning pubs as well as one overall winner".
The Clachan Inn and Robert the Bruce now go forward to the regional heats to select Scottishwinners to go into the national CAMRA pub of the year competitions.
Below is a full round up of who won what in the 2019 Pub of the Year Awards from the Dumfries& Stewartry branch of CAMRA.
PUB OF THE YEAR
Dumfriesshire Area Winner – Farmer`s Inn, Clarencefield
Dumfries Town Area Winner – Cavens Arms, Dumfries
Stewartry Area Winner – Clachan Inn, St John's Town of Dalry
OVERALL DUMFRIES AND STEWARTRY PUB OF THE YEAR WINNER:
CLACHAN INN, ST JOHN'S TOWN OF DALRY
OVERALL DUMFRIES AND STEWARTRY CIDER PUB OF THE YEAR WINNER:
ROBERT THE BRUCE, DUMFRIES
Anyone with an interest in real ale is encouraged to join us at our various events and play a partin local activities by simply joining CAMRA. Visit our webpage https://dumfries.camra.org.uk/, or search for the CAMRA Dumfries group to find our Facebook page if you want more information.