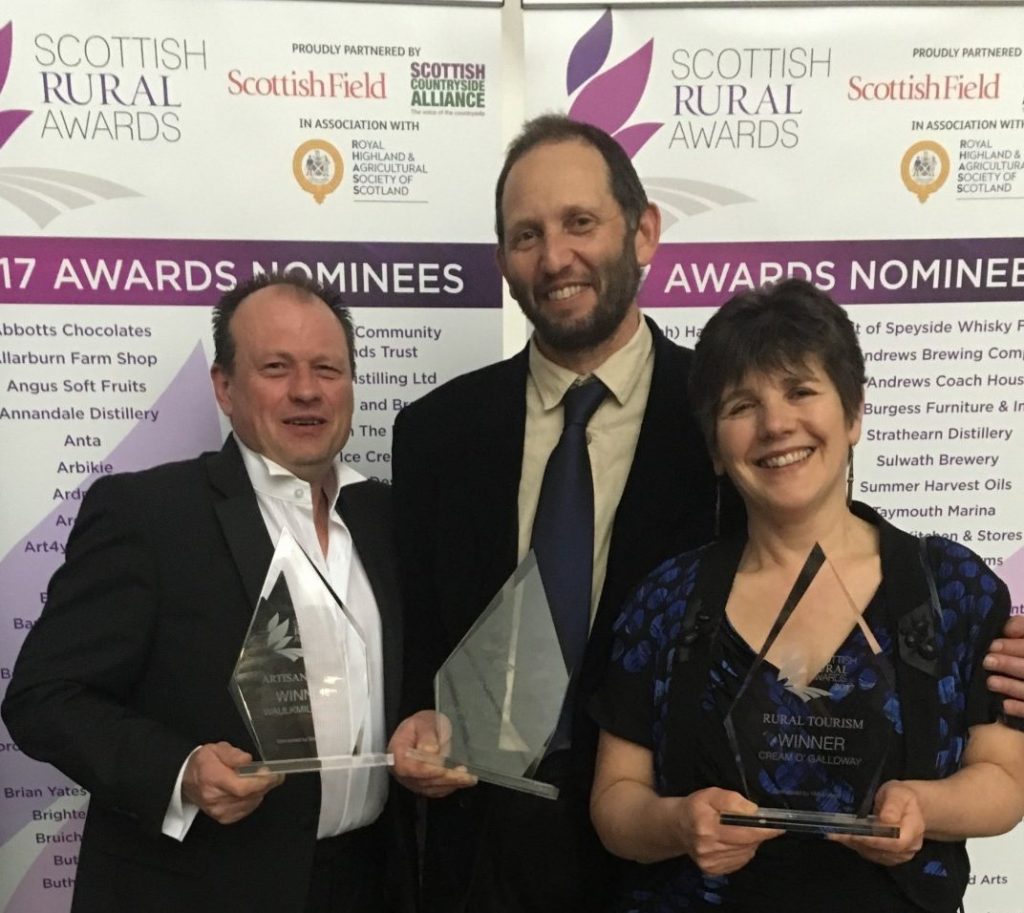 Regional food organisation DG Food and Drink has congratulated five of Dumfries & Galloway's local food and drink producers who have been recognised at national awards over the last week.
The Earth's Crust Bakery were yesterday named as a finalist in the Best Producer category of the prestigious BBC Food and Farming Awards, arguably the highest profile food award in the UK. To make the final shortlist the artisan bakery from Castle Douglas beat thousands of nominations, including 400 nominations for other bakeries alone. The nomination will shine a national spotlight on The Earth's Crust Bakery and Castle Douglas Food Town when they feature in BBC Radio 4's The Food Programme later this year.
Meanwhile four food and drink businesses won major awards at the Scottish Rural Awards which took place in Edinburgh on Thursday. Loch Arthur from Beeswing was named as Scotland's top Artisan Food business, Waulkmill Cider from Langholm was named Scotland's Artisan Drink producer and Cream o' Galloway from Gatehouse won the Rural Tourism award. Roan's Dairy from Dalbeattie was runner up in the Rural Enterprise Category.
Lorna Young from DG Food and Drink said the region's recent awards success evidences the strength of the local artisan food and drink sector.
"Dumfries & Galloway is one of Scotland's most important food producing regions and it is fantastic to see our artisan producers being recognised on the national stage. These are remarkable achievements and are a testament to the dedication, passion and commitment to quality of our craft producers.

"Scotland's food and drink industry is going through a period of rapid growth. Our region is playing a part in that national success and there are significant opportunities opening up for our local businesses. For example, three of these award winners are taking part in an innovative new trade show in Carlisle later this week which draws together food and drink producers from across Dumfries & Galloway and Cumbria to encourage greater use of local food and drink by businesses and members of the public.

"I'm keen to support all of these businesses in delivering their future plans and look forward to seeking what they achieve next."
Dumfries & Galloway's success comes as Scotland's food and drink industry announced record export figures yesterday, doubling in the last 10 years, making food and drink Scotland's fastest growing major economic sector.
The industry is expected to consolidate this success by launching an ambitious new strategic vision on Thursday, which is expected to include a 13-year plan to make food and drink Scotland's most valuable industry by 2030.
Comments
comments