The Masonic Arms in Gatehouse of Fleet, Dumfries and Galloway underwent a major £200k refurbishment project in early 2018. The investment since then has continued with the installation of a Falcon chargrill plus roof extraction and all associated (and required) safety equipment to the cost of some £15k, in late 2018.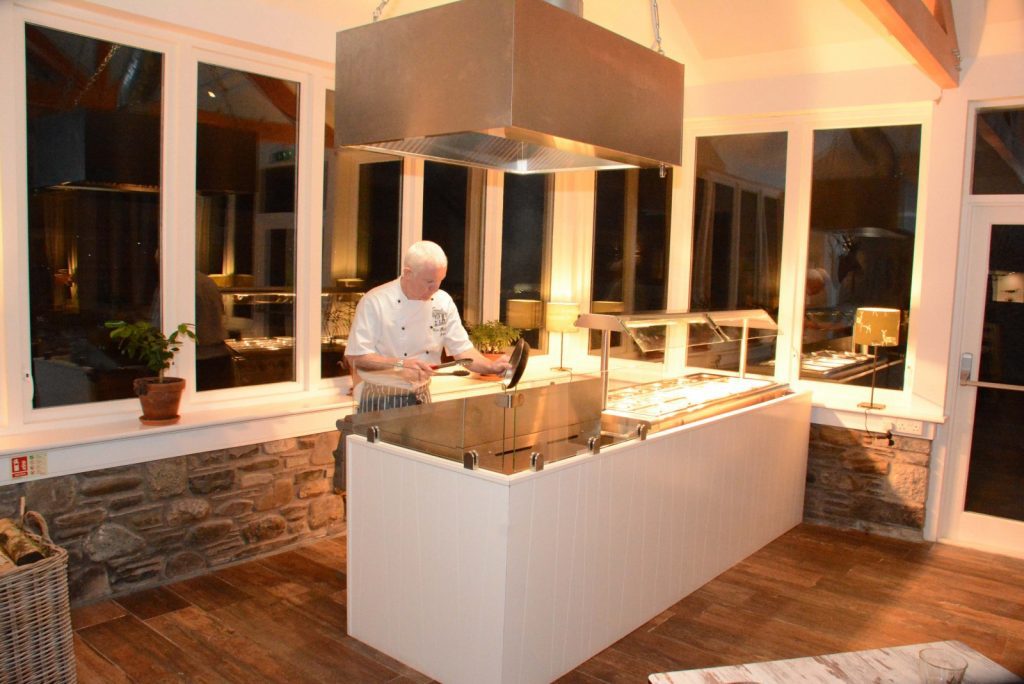 On Friday the 1st of February the Chargrill will be officially open and the team at the Masonic will be holding their first Steak night and with it being the first one they are giving a very generous 20% off the menu price of £35.00 for anyone who books before February the 1st.
Jimmy Harvey the co-owner and head chef at the Masonic

DGWGO's RB went along this week to chat to Jimmy Harvey the co-owner and head chef at the Masonic, Jimmy Said "We decided to invest in an open chargrill placed in the eating area of the restaurant as there is nothing like it presently available anywhere else in the region."

Partner at the Masonic Richard Gidney said "Jimmy is well known for producing fabulous meat dishes. His ability to produce fantastic dishes such as Flat Iron steaks, Lamb Henry's, Piri Piri Chicken and his famous Masonic Burger is already loved and adored by the regular clientele, and so giving him the high quality equipment which is now in place will simply take the cuisine on offer to the next level."

Jimmy continued "We only use the very best ingredients sourced from Dumfries & Galloway and Cumbria. A fabulous selection of only top quality steaks, specifically chosen by myself are on offer for the first steak night. Future events will feature a wider range of cuts and meats. Watch out for some unusual and flavoursome offerings!"

Partner at the Masonic Sofia Perez Liaño said "Customers will be able to watch, listen and smell Jimmy cook their orders in front of them within the sunroom restaurant. This presents a unique dining experience for local customers who can delight in the wonderful flavours, excellent service and beautiful ambience of the Masonic Arms.
Steak Night Menu
———————–
Braised mushrooms in port cream gratinated in Galloway smokehouse cheddar and crunchy bread croutons
Minestrone soup
Smoked salmon slices with creamed cheese and chives drizzled in a dill oil dressing
 ———————————————
From the chargrill
Lovely marbled 8oz Ribeye steak
Juicy 8oz sirloin steak
Tender 8oz rump steak
Flavoursome 8oz dry aged sirloin steak
Lean and mean 8oz fillet steak
All come with tomato, mushrooms, onion rings and fries and choice of Pepper or Diane sauce
 ———————————————–
Sticky toffee pudding with vanilla ice cream and toffee sauce
Rhubarb and Ginger crème brulee with shortbread biscuits
Cream of Galloway ice-cream selection
Tea or coffee
£35 per person
(20% Discount off this price for anyone who books for our first steak night on February 1st 2019)
—————————————————————-
All our steaks, delivered to your table this evening, are from Limousine cross cattle reared in farms from the Lakeland area of Cumbria and Dumfries & Galloway.
The cattle are reared until 15 to 18 months and hung for 2 to 3 weeks.
The dry aged steaks are placed in a refrigerator unit also known as a "hotbox". Temperature is above freezing but not high enough to taint the meat and not too cold to freeze. This process aims to evaporate moisture from the muscle resulting in a greater concentration of flavour and to allow the beef's natural enzymes to break down tissue in the muscle which leads to a more tender steak.
The down side to dry-aged beef is that the process results in one third of the weight of the carcass being lost due to loss of moisture.
The up side is flavoursome and tender steaks.
To Book your table for February the 1st at The Masonic Arms at Gatehouse of Fleet Phone 01557 814 335
[vc_video link="https://www.youtube.com/watch?v=Cm_zMAMa9d0″]