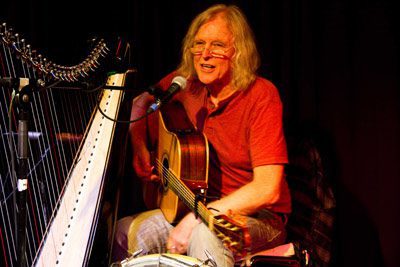 The next Kirkmahoe Concert is coming up on 18 September, bringing us to our fifth anniversary. Since we started in 2010 we have put on a total of 29 concerts in the villages of Dalswinton and Kirkton, using the two halls and the two churches.
The next concert, at Dalswinton Village Hall, features Robin Williamson, making his annual visit. Admired by Billy Connolly, Robert Plant, Van Morrison and many more, he was a founder of the Incredible String Band in the early 1960s – the only Scottish band to play at the famous Woodstock festival. Since his last Kirkmahoe Concert he has released a new album on the prestigious ECM label – Trusting in the Rising Light – which has had great reviews. Picture attached.
This is a wonderful chance to see live and unplugged a fabulous songwriter, poet, guitarist, harpist and story teller. It will be a magical evening. Tickets are £10 from the Midsteeple, Dumfries; Thomas Tosh , Thornhill; or on the door. Doors open at 7pm, concert starts at 7.30.