One of Scotland's most celebrated hard-style DJs, Scott Nicol (better known by stage name 'Avi8') will perform at Chancers Nightclub, Dumfries on March 16th as part of a charity event in aid of the National Deaf Children's Society (NDCS). Avi8 will be supported by other mixed-genre DJs including Sean McInally, Deekay, and local talent Scott McCormick and Struan Duff.
The event, titled 'Deafqon', is being organised by Dumfries local Kyle Lindsay, whose young niece Robyn was the first child to be born profoundly deaf in Dumfries and Galloway for fourteen years. Speaking about his support for NDCS, Kyle said: "I want to host this event to help this charity to continue to support families like mine. As the charity is not government funded, it relies on fundraising to support deaf children in the UK to reach their full potential. Deafness is a disability that is often missed by our government and services, and this charity does all it can to support deaf children and their families to lead a positive and happy life."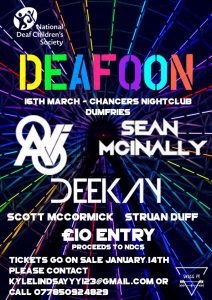 Deafqon will be hosted by Chancers Nightclub, Dumfries, and will feature music from a variety of mixed genre DJs. As well as featuring a set from Avi8, Deafqon will act as a platform for other artists to showcase their music while helping to support the National Deaf Children's Society. Other artists who will play the event are DJ Deekay, Sean McInally, Struan Duff, and Scott McCormick. A spokesperson for Chancers Nightclub said: "we're very excited to be playing host to this event, having a top performer like Avi8 come to Dumfries is great for the town, and builds a great platform for local talent to share and showcase their music. We're so grateful to Avi8 for choosing to support this event and the National Deaf Children's Association."
Entry to the event costs £10 per person, with all proceeds from ticket sales going to the National Deaf Children's Society to help the charity continue to support deaf children and their families across the UK.