The outrageous force of nature that are THE CUBAN BROTHERS return to Dumfries and Galloway on the 1st of March 2019 with a brand-new show and some pretty amazing suits to match.  
The 4-piece enjoyed themselves so much in 2017 that they had to come back to Kirkpatrick Durham and tread the boards again at the legendary village hall which has a solid history of local events, performances and parties.  Expect the usual top end lights and sound production from Kim Kirk Events and a well-stocked bar of local beer and Cuban cocktails.
Just in case you missed the band's last expedition to KPD, The Cuban Brothers pedigree is well documented, from sold out tours, festival spots and support slots for rock royalty to crazy club nights, film roles and fashion shows, The Cuban Brothers' unparalleled act is ingrained in pop culture.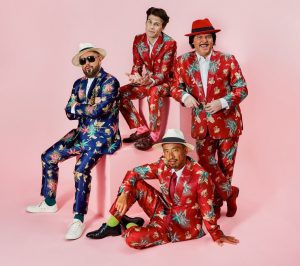 Two decades since their inception, Miguel and hissuspect sidekicks are renowned the world over for their party starting skills,risqué sketches, B boy moves and funk fuelled music.
Everywhere from the far East to South America, from Brisbane to Bahrain, from the Gumball rally to the F1 circuit has fallen for the Hawaiian suit sporting crew and their outrageous, X rated antics.
In 2018 they celebrated their 20th Anniversary with a special tour of the Scottish Highlands & Islands where it all began and the release of their latest compilation 'La Familia' featuring one new Cubans track 'I Hate Hate' alongside classics by Herbie Hancock, Children Of Zeus and D'Angelo.
There are rumours that some special guests may make an appearance in the form of the hilarious new characters Bridge and Allen, who may be seen on the show day wandering the attractions of Castle Douglas and Kirkpatrick Durham.
The night will be cemented together with the solid brick house funk of Dumfries' DJ, Disco Shiva, top and tailing the Cubans' set to keep the bodies moving.
Join us from 7.30pm to late to dance the winter blues away get Your Tickets HERE.