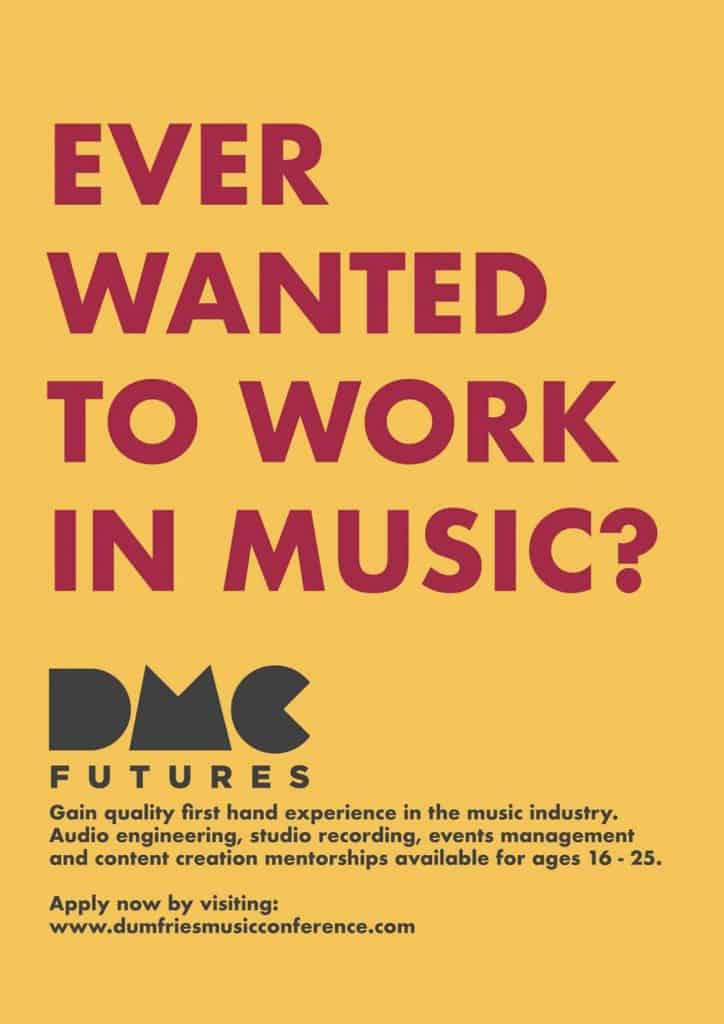 Dumfries Music Conference (DMC), which has been organising educational music events in Dumfries and Galloway since 2012, has unveiled a mentoring programme aimed at young people interested in pursuing a career in the music industry. The 'DMC Futures' initiative will offer three professional development mentorships, led by experts from the local area.
The one-to-one mentoring programmes will cover: Live Sound & Studio Recording, Event Management, Music Curation & Design, and Social Media & Content Creation.
The mentoring programmes, which can be arranged to suit the mentors and students, will run during August, September and October, and will culminate in an involvement with this year's DMC 2019 conference, taking place on Thursday 17th to Saturday 19th October. Each mentorship will amount to at least 24-hours of mentoring – typically split across four six-hour sessions.
Dave Miller will lead the Live Sound & Studio Recording Mentorship. He will demonstrate how to craft the perfect sound and use the tools of the trade effectively. Dave is a freelance audio engineer with over 10 years professional experience and three years of academic study behind him. He has experience in a range of musical genres and event types – for audiences as large as 12,000 people – and has worked extensively mixing front of house for concert material and has toured national and internationally with a range of artists.
The Event Management, Music Curation & Design Mentorship will teach the skills required to curate, manage, design and produce the Friday evening event of the annual Dumfries Music Conference. The mentee will work with Martin Joseph O'Neill, an artist, producer, director and programmer. Martin is currently the operations and production manager for DMC. He is also head of programming for the Stove Network and has over 10 years of experience in the creative industries.
Kirstin McEwan will lead the Social Media & Content Creation Mentorship. She will teach her mentee how stand out from the crowd by successfully building a brand through promotional social media, marketing and photography. Kirstin works as Digital Media Manager for DMC and was project lead for the annual Female Takeover. Kirstin is also a freelance content creator, marketer and journalistic photographer, working with several projects and organisations dedicated to capturing and contributing to the creative energy of the South West of Scotland.
To apply for any of the DMC Futures mentorships, send a CV and Cover Letter explaining your interest in your desired mentorship to dumfriesmusicconference@gmail.com by 17:00 on Monday 1st July.