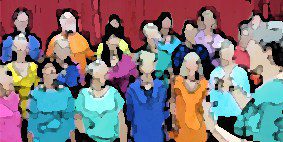 The Feral Choir is looking forward to welcoming faces old and new to Twynholm Village Hall for its concert on 22nd June, This is Home.
The Castle Douglas-based singers will perform a wide variety of contemporary, trad and choral songs, some of which they've been practising for a charity event in Edinburgh the weekend before.
The programme in Twynholm includes Kaki Lambe, a West African celebration song; Turn, Turn, Turn by Pete Seeger, who was born 100 years ago this month; and This is Home by Sophia Efthimiou, which gives its name to the concert.
"Although it wasn't deliberate, there seem to be a number of themes running through the songs from migration and the meaning of home to peace and hope. These feel relevant to what's happening across the world at the moment.
"One of my favourites that we're singing this time round is a song about painted lady butterflies," choir leader, Alison Burns tells us. "They travel 12,000km from Africa to Europe each year and they've attracted extra attention this year as there were literally millions. What's amazing about them is that up to six generations are born during the journey but the butterflies still know where to go."
This is Home, at Twynholm Village Hall is on Saturday 22nd June at 7.30pm. Tickets can be bought in advance – from Thomson's Newsagent, Kirkcudbright and Jenny Wren Toy Shop, Castle Douglas – or on the door.
See http://www.feralchoir.co.uk/news/ for more information and booking details. All tickets are £10 and include refreshments.