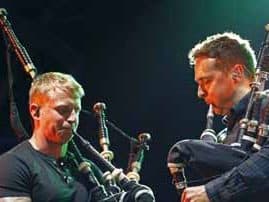 'Everyday Heroes', an NHS charity single from a host of Scottish musicians, has gone to number one in the iTunes charts, within just 12 hours of being released.
The special video and single in aid of NHS workers fighting COVID-19 was released on Thursday, 9th   April 2020 to coincide with the 'Clap for Carers' tribute applause and racked up more downloads than any other track in the UK across Easter weekend.
Featuring around 20 names across the Scottish music scene, as well as some well-known faces, the track entitled 'Everyday Heroes' was composed by Skerryvore piper Martin Gillespie and recorded remotely in different locations during the ongoing lockdown.
The track is now in the top 10 on iTunes and top 20 in the UK Big Top 40 chart – and the musicians involved are calling on the public to continue to get behind the track and support the worthy cause.
Skerryvore are also calling on the musical community to come together to play the track at this Thursday's 'Clap for Carers'. The band will share a link on their social media pages later today that will allow everyone to hear, watch and download the tune and sheet music to get practicing ahead of Thursday.
The video is available on YouTube where there is a donate option for viewers, with all proceeds going towards the NHS Charities COVID-19 Urgent Appeal.
It features musicians from Skerryvore, Tide Lines, Peat and Diesel and Mànran, alongside figures including Alastair Campbell and they are all encouraging other musicians to join them in playing the moving instrumental track this Thursday, 16 April at this week's 'Clap For Carers'.
Martin Gillespie said: "The response to 'Everyday Heroes' has been fantastic, it's been so humbling to see so many people downloading the single, watching the video and doing their little bit to support the hundreds of thousands of NHS staff, volunteers and key workers risking so much to fight COVID-19.

"It's not every day you top the charts and it goes to show the respect we all hold for the NHS and the power of music during difficult times. We hope people have found some comfort listening to the track and can enjoy it knowing that all proceeds are going to the NHS Charities COVID-19 Urgent Appeal.

"We hope people continue to support the campaign and tell all their friends about it so we can fundraise as much as possible. We're also calling on the musical community to come together to play the track at this Thursday's 'Clap for Carers'. We would love to see people out on their doorstep and hear the tune ringing out in honour of all those keeping us safe just now."
Among those who appear in the 'Everyday Heroes' video are all of the members of Skerryvore, Innes Scott of Peat and Diesel, BBC Take the Floor Presenter and member of Mànran Gary Innes, Robert Robertson of Tide Lines, Harry Richards of the Red Hot Chilli Pipers, Skipinnish's Angus MacPhail and Rory Grindlay, Ian Smith and Seonaidh Macintyre from fellow Tiree band Trail West, Mhairi Wood of Skara, alongside political aide and journalist Alastair Campbell.
Martin, whose tour work has been curtailed by COVID-19 for the foreseeable future, was inspired to write the tune in response to the bravery and commitment of frontline NHS staff and thousands of volunteers and key workers risking their lives to fight the virus.
The track was arranged, mixed and mastered by Scott Wood of Skerryvore and Mhairi Wood – it was released on Tyree Records and was created in one just one week.
The 'Everyday Heroes' video is available to view on YouTube. The track is available to buy, stream and download on all major platforms. All proceeds from any digital downloads go to the charity fund.
You can donate to the NHS Charities COVID-19 Urgent Appeal at: virginmoneygiving.com/fund/NHSCharitiesCOVID19