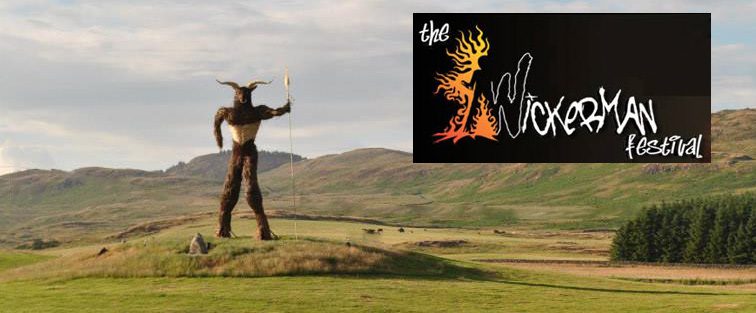 Dizzee Rascal, The Feeling, Martha Reeves and The Vandellas, The Zombies and Big Country Amongst Main Stage Acts Announced
Friday 25th & Saturday 26th July 2014 / www.thewickermanfestival.co.uk
Wickerman, one of Scotland's best-loved independent music festivals, has revealed that the Friday night headliner for this summer's event will be British rap
superstar Dizzee Rascal. Also joining the red hot Summerisle Stage line-up will be The Feeling, Martha Reeves and The Vandellas, The Zombies and Big Country amongst others.
On Friday 25th July, Dizzee Rascal is set to deliver an explosive set in what will be his only Scottish festival appearance this year.  Performing an amped up mix of classic hits from his five studio albums, the MC's roof raising style is set to electrify the crowds.
Joining him will be English pop rock band The Feeling. The Ivor Novello award winning act will be making their mark on stage with their unique pop rock sound and distinctive vocals.  Motown legends Martha Reeves and the Vandellas are set to deliver what promises to be a show stopping performance. Founded in the 1960s, the group's string of hits include 'Nowhere to Run', 'Heat Wave' and 'Jimmy Mack'.  Their Wickerman appearance is part of Martha's tour to celebrate the 50th anniversary of the release of their biggest hit, 'Dancing in the Street'. English rock band, The Zombies, will be further enhancing the Festival's eclectic vibe by performing their iconic1960s hits, such as 'She's Not There.' Their 'Odessey and Oracle' album is ranked number 100 in Rolling Stone magazine's '500 Greatest Albums of All Time'.
Music video by The Feeling performing Love It When You Call. (C) 2005 Universal Island Records Ltd. A Universal Music Company.
Legendary rock band Big Country will add a Scottish touch to proceedings and are sure to stir up a storm with their folk infused sound. Wickerman favourites and Dumfries & Galloway natives Finding Albert
will showcase their distinctive blend of rock and electronica whilst Dundee's Model Aeroplanes, fresh off the back of winning 'Best Newcomers' at the 2014 Scottish Alternative Music Awards last weekend promise a set filled with fun and fresh pop music.  ( Pictured Local Favourites Finding Albert Credit R.B Photography)
 Wickerman Festival Coordinator Helen Chalmers is thrilled to be revealing the first raft of Wickerman 2014 acts. She commented:
"We are delighted that Dizzee Rascal will be joining the party this year, his live performances are incredible and I can't wait to see the crowd's reaction to his headline set.
From hip hop, pop, folk to motown and alternative rock, this year's line up will once again be a truly diverse offering and we look forward to announcing further exciting additions including our Saturday night headliner over the coming weeks."
Wickerman Festival 2014
Friday 25th & Saturday 26th July 2014 / www.thewickermanfestival.co.uk
East Kirkcarswell Farm, Dundrennan, Dumfries & Galloway
Tickets can be purchased from http://wickerman.skiddletickets.com/event.php?id=11715304
More acts are still to be announced.