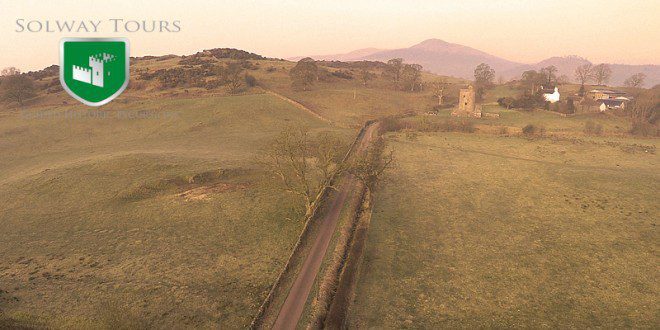 Written by Mark Turner and Lesley Wilson of Solway Tours who provide chauffeur driven private guided historic tours in Dumfries & Galloway and beyond. (more details at end of this article)
When will you make sure that you have visited them all?
Most local people and many visitors will have visited the fantastic local attractions of Gretna Green, Caerlaverock Castle and Burns' House at least once in their lifetime. However at Solway Tours we find it very frustrating that as the Gateway to Scotland we have so many fantastic places to visit yet to many of them remain "undiscovered". We need to showcase all the high quality historic sites that we have across the Region and ensure that both locals and visitors do not miss out on some of our hidden gems. In Dumfries and Galloway we do seem to lack a bit of confidence at times about "shouting loudly enough" about some of our incredible historic attractions.
We are incredibly proud of the role our Region has played in shaping the nation of Scotland and the wider global community beyond our shores but there is so much more that we could highlight to ensure that more people know about the impact that our local area and local people have had!
Below we have outlined TEN places that everyone should visit at least once when visiting or living in the local area.
We had to stop at ten but could have outlined many more.
images copyright of Solway Tours & R.B. Photography
3. Orchardton Tower near Palnackie in the Stewartry.
A unique construction as it is the only circular laird's tower house built in late-medieval Scotland. The builder was John Cairns, who acquired Orchardton in 1456 and he created this fantastic tower house which you can still climb the narrow staircase to the top.
8. 

Ruthwell Cross and Savings Bank Museum in Ruthwell Annandale
Two fantastic sites in one both linked to the incredible life of Henry Duncan. Duncan's life is explained in great detail by the fantastic guide at the Museum and then you can wonder at the incredible 8th Century Anglo Saxon cross within the local church. A must see!
9. 

Gilnockie Tower near Langholm in Eskdale
The Border Reivers is such an incredible story of the lawless debatable lands between Scotland and England. This towerwas built around 1520 by Johnnie Armstrong one of the richest men in the area. In 1530 Johnnie and 50 followers were hanged by James V of Scotland, after being tricked into joining a hunting party, an event recorded in the ballad "Johnnie Armstrong". The tower nestled beside the River is now the home of Clan Armstrong.
How many have you managed to visit?
Why don't you let us know about what your undiscovered historic gems are? We are aware that there are lots of evocative and inspiring sites to visit in the local area.
Solway Tours – An enjoyable and unique personalised chauffeur driven service covering South West Scotland and beyond.
Mark Turner and Lesley Wilson run Solway Tours and provide guided historic tours in Dumfries & Galloway and beyond.
Experience your own private chauffeur driven guided historic tours covering all areas of Scotland.
Comments
comments