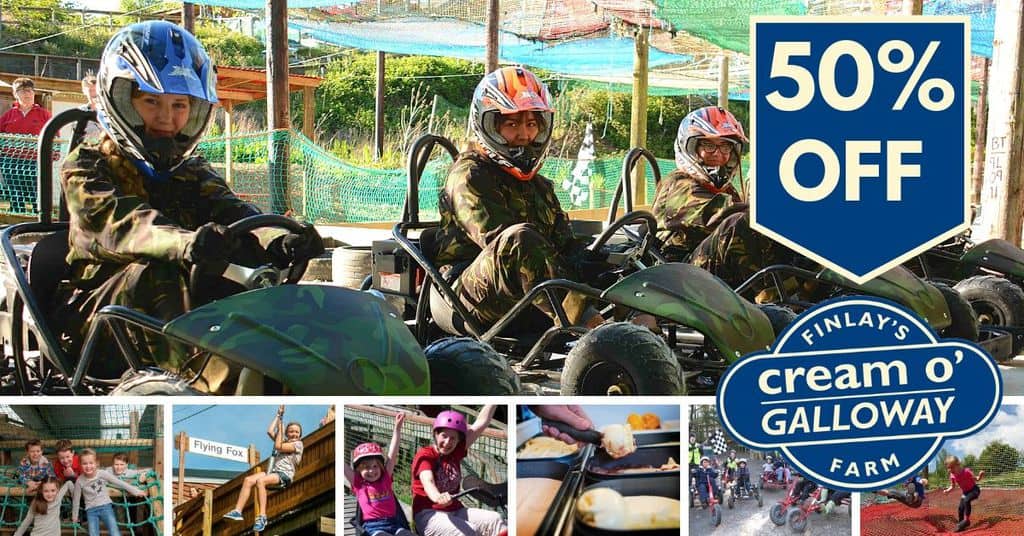 Half price day ticket for 4 (at least 1 adult) for £38.00.
The Cream O' Galloway Full o' Fun Ticket is a half price deal for a group of four (at least 1 adult).
The voucher includes unlimited use on the Drop Slide, Flying Fox, Pedal Karts plus everything in the adventure playground as well as 1 ticket per child (6-15 year olds) for our brand new eKarts. (12 stone weight limit)
Full o' Fun Family Ticket only redeemable on Weekends and UK School Holidays
——————————
Enter Your Details and The Voucher Will Be Emailed To You
[contact-form-7 404 "Not Found"]
Please print your voucher and present on arrival to redeem or show the voucher on your mobile phone.
——————————
Cream o' Galloway is a deliciously good fun place to visit and this half price voucher is a great way to make the most of everything on offer.
With its woodland adventure playground including the fabulously bouncy 'Go Boing', indoor visitor centre and play areas, daily events, exciting slides, rides, pedal karts and the brand new eKarts, and its miles of beautiful walks and nature trails to explore in Galloway's scenic countryside.
Bring your little ones to our new Mini Play Zone where they can bounce, scoot, climb, explore and pedal to their hearts' content!
Booking ahead is essential for the eKarts to guarantee a place on the track! Please call 01557 815222
The voucher is valid until the 31st of August 2019 – Expires after single use