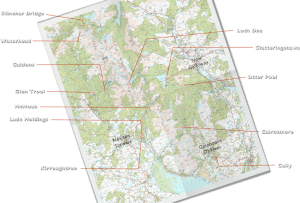 On Sunday I packed my Camera and headed off into the Galloway Forest Park determind to Track down and Bag my First two Rosnes Benches 
A couple of months ago I read an article in D&G Life magazine all about this fantastic Art Project happening up in the
Galloway Forest Park
, The Article inspired me to get out there and start finding some of these wonderfully tactile looking Benches that are scattered at Scenic spots all over the Forest Park .
I headed off up the Queen's Way Road a wonderful  17-mile   stretch of the A 712 road that winds through some of D&G's most stunning locations  and holds many happy memories for me . The Road itself was designated in 1977 by the Forestry Commission as part of the Queen's Silver Jubilee celebrations,  Princess Anne opened the route by unveiling a  marker stone   on the 27th July of that year.
The road runs from Newton Stewart to New Galloway and this is where i hoped i might  find my first bench  , Unfortunately the Raiders Road was closed , but I traveled onwards to the Clatteringshaws Visitors Centre and parked up there ! Headed off down the footpath Heading for Bruce's Rock , and While passing through the woods , on the side by the loch , looming in amongst the trees , I spotted them , My First two Rosnes Benches , well my Heart leaped with joy , And even though they were damp with all the rain , i had to try them out ! I have to admit though , i was shocked to find out on closer inspection that they are made of Plastic and not stone , as they look like they have been carved from a piece of Grey Rock ! But as a lay down and looked up at the sky . I realised Just how amazing these structures are , and they really do connect you with the environment that you are visiting , especially if you lay quietly and listed to the peace and quite too !
The Rosnes Bench was an idea developed for the vast and diverse landscape of Dumfries and Galloway by Scottish artists Dalziel + Scullion. To really experience the Rosnes Benches Project  you  have to get out and about   into nature but now we can let  benches slow us down, create stillness, change our viewpoint and help us to remain in the moment and absorb the wonders of D&G . ' Wide Open' commissioned Dalziel+Scullion to create Rosnes Bench for the Biosphere/Dark Skies Park. The focus of this project is to reconnect people to the environment and to the ecology of place.
Rather than propose an artwork that is designed to be iconic in scale and be about the physicality of the artwork itself, the philosophy of this project dictates that the artworks focuses attention on the landscape that hosts the work. The artists want to make a series of works that assist people to slow down and tune into their surrounding to have fun and be part of the art itself ! 
I can not wait to get out there again soon , and start bagging a few more of these fantastic Little bits of Art that we are very lucky to have in our Wonderful wee corner of Scotland !
If you want to start Bagging some of these wonderful Sculptured Benches for yourself click this link for the full list of locations and maps and directions http://www.rosnesbench.com/location.html
For More info about the Galloway Forest park Click this link  http://scotland.forestry.gov.uk/forest-parks/galloway-forest-park
Pictures by R.B Photography