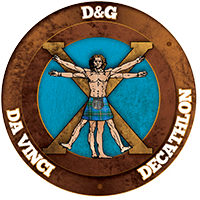 D&G schools take on da Vinci challenge
Teams from 9 Dumfries and Galloway secondary schools will be competing in the da Vinci Decathlon from 7 to 9 October 2014. The winners will represent Dumfries and Galloway in an international da Vinci Decathlon in Milan.
In a residential event, held over 2 days on the Crichton Campus, with ovenight stays at the Holiday Inn, in Dumfries, teams of 8 pupils (S2 to S4) will face 10 different challenges covering topics that Leonardo da Vinci excelled at. These include engineering, maths, code breaking, philosophy, science, art and poetry, cartography, literature, and drama. There is also a general knowledge component.
The schools competing are Annan Academy, Dalbeattie High School, Douglas Ewart High School, Dumfries Academy, Dumfries High School, Sanquhar Academy, St Joseph's College, Stranraer Academy, and Wallacehall Academy.
The da Vinci Decathlon was established by Knox Grammar School in Sydney, Australia. The school wanted a project to challenge students in a creative way, beyond the classroom, without formal assessment. The challenge reached Scotland through a teacher exchange between Dalbeattie High School and Knox Grammar School in 2012. The challenges devised, inspired by Leonardo da Vinci, were seen to be so successful that the concept grew, with the programme spreading throughout the state, across Australia, then internationally with Dalbeattie High School participating in the first international challenge in Milan, Italy, in 2013.
Councillor Jeff Leaver, chairman of the Education Services Committee, said, "This event is an outstanding opportunity to really challenge and stretch some of our more able pupils intellectually. The pupils in each team have already done a lot of work over the last few months to train and prepare for this competition, building a high level of knowledge and developing their skills in the challenges they will face. The experience they gain from this project will be invaluable to them for many years to come."
For more info, see: http://www.davincidecathlon.co.uk/intro/
Dumfries and Galloway's da Vinci challenge has benefitted from sponsorship and financial support from a range of organisations, including:
Dumfries and Galloway Council
University of the West of Scotland (UWS)
Dumfries and Galloway College
University of Glasgow
Bibliographic Data Services
Andy Goldsworthy
Rotary Club
Crichton Foundation
Holywood Trust
Graham Engineers
Hub South West
WeeSleekit Design created a da Vinci challenge website to enable schools and partners to communicate and share ideas and resources
Support to the challenge has come from:
Geoff Allison (grandparent of participating student – code breaking)
Dr Stuart Handscombe (University of Glasgow – philosophy)
Professor Collette Haig (UWS – mathematics)
Professor John Lockhart (UWS – science)
Jackie Flynn (Dumfries High School – creative producers)
Electric Theatre Workshop (creative producers)
Simon Mein (Dalbeattie High School – cartography)
Liz Niven (poet – art and poetry)
Isabell Buenz (artist – art and poetry)
Roz Anderson – (Dumfries College – engineering)
Stephen Long – (Graham Engineers – engineering)
Lesley Whyte – (Bibliographic Data Services – English)
Sean O'Toole – (Dumfries and Galloway Council – chess)
Teams taking part:
Annan Academy – da Invincibles
Dalbeattie High School – da Beatti's Demons
Douglas Ewart High School – DAspicables
Dumfries Academy – Minerva Minds
Dumfries High School – da High School
Sanquhar Academy – Mechanical Knights
St Joseph's College – Vini, Vedi, Vinci
Stranraer Academy – Colossus
Wallacehall Academy – The Vitruvians