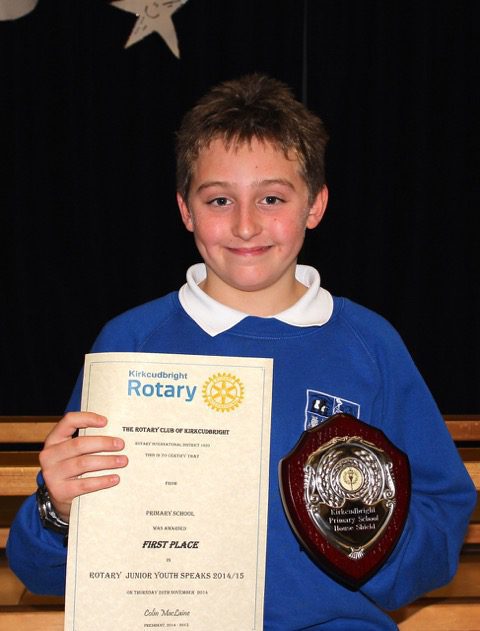 Junior Youth Speaks Kirkcudbright Primary 20 November 2014
Last Thursday evening Kirkcudbright Rotary Club organised and sponsored its annual Junior Youth Speaks competition. Held at Kirkcudbright Primary school, twelve young people drawn from Auchencairn, Borgue, Gatehouse, Twynholm and Kirkcudbright Primary Schools each delivered a talk to an audience of teachers, parents and Rotarians. Their talks covered a very wide and interesting variety of subjects.
The winner, Stephen Dale-Stanley,(main picture) gave a fascinating description of the Gold Dutch Bantam and how he prepared one of his bantams for a show.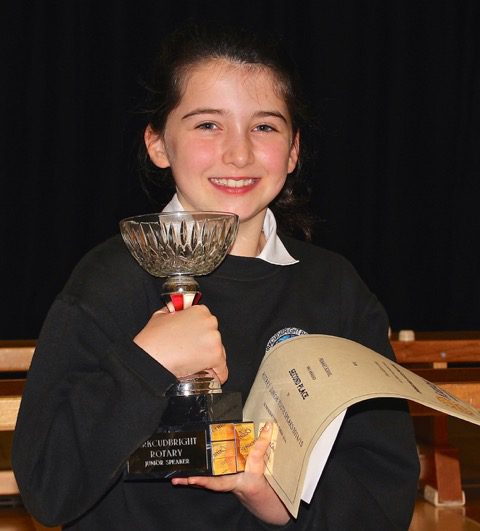 The runner-up, Hope Rowley, did her very best to convince us all to do our bit to clear up litter wherever we found it. The judges found it impossible to find a single Most Promising speaker, so there were two who shared this distinction. Edward Hannay spoke about the Bagpipes and Erin Findlay about Borgue School. Kirkcudbright Rotary Club presented the winners with prizes and trophies trophies and all participants were presented with certificates. Members of Kirkcudbright Rotary Club will now be visiting each of the schools to present named certificates and engraved trophies to all of the competitors at an assembly in front of their own school friends.