SOUTH WEST DAIRY SHOW 2014
WALLETS MARTS, CASTLEDOUGLAS
THURSDAY 30thOctober 2014
7.30PM
It was a packed ringside at this years South West Scotland Dairy Show with record number of spectators turning up to watch 21 exhibitors turn out 69 dairy cattle from the Holstein, Ayrshire, Jersey and new for this year – the Brown Swiss breeds.
Judge David Sayce from Ayr had his work cut out judging all 13 classes, including the Junior and Senior calf and handling classes.  Taking the top Junior Calf title and also Senior Handler title was Jenny Yates from Meikle Firthhead with Meiklefirth Dreams Lutske.  Winning this years new Senior Calf Class was Michael Yates from East Logan with Logan Mincio Barbra. Junior Handler was won by Megan Heuchan, Gerranton.
Winning for a 3rd year in a row with the same cow was Brian Yates, East Logan with his Senior Cow Kellywell Marshall Brooke taking the Holstein Championship.  She is sired by Mara-Thon BW Marshall. Taking
Reserve and Exhibitor Bred Champion was B& V Davidson from Errolston with his Senior cow Errolston Damion Ricki. Itwas a successful night for the Davidson family from Halmyre taking the Ayrshire Championship and Exhibitor Bred Champion with their Junior Cow Halmyre Urr Louise 260 sired by Palmyre Tri-Star Reality and Reserve Champion with thei rheifer in milk Halmyre Urr Floralin 174. Taking the Jersey Championship was the Buchanan family from LaighKilphin, Girvan with their Jersey cow Bluegrass Shandys August Blondie sired by Bluegrass Shimmers Shandy and taking Reserve Champion with their cow Homeland on Time Java. 
The show committee would like to thank the long list of sponsors for their support of this years show.  Photos from R.B Photography from Dumfries andGalloway! Whats Going on?
For more pictures and details please check out the Shows facebook page –https://www.facebook.com/swdairyshow
There were 13 classes with results as follows:
Class1 – Interbreed heifer in calf 
1st– Brian Yates, East Logan, Castle Douglas with Logan Baltimor Bracket
2nd– R & S McColm, High Boreland, Stranraer with Soulseat Jackpot Dee
3rd  – David Yates, Meikle Firthhead, Haugh of Urrwith Meiklefirth Million Lizzie
Class2 – Interbreed Cow in Calf
1st– David Yates, Meikle Firthhead with Meiklefirth T Gibson Illa
2nd– G.G Baynes & Son, Marley Cote Walls, Hexham with Morwick Fawn 3
3rd– Steven Roan, Boreland of Colvend, Dalbeattie with Colvend Matson Anna
Class3a – Interbreed Junior Calf Class
1st– Jenny Yates, Meikle Firthhead with Meiklefirth Dreams Lustke
2nd– Brooke Martin leader for Steven Roan, Boreland of Colvend with ColvendDempsey Sage
3rd– Ruby Patterson leader for D McCormick, Meikle Firthhead with Cormick ZoroRoxy
4th– Michael Yates, East Logan with Logan Windhammer Doll
5th– Alisa Buchanan,  Laigh Kilphin Farm,Girvan with Tintoview Samba Alyson
6th– Michael Widdowson leader for Robert McGoldrick, Woodside Terrace, Dalbeattiewith McGoldrick Goldie
7th– Chelsea O`neil leader for Robert McGoldrick, Dalbeattie with McGoldrick Irene
Class3b – Interbreed Senior Calf Class
1st– Michael Yates, East Logan with Logan Mincio Barbra
2nd– Megan Heuchan leader for C & N Heuchan, Crofthead Cottages, Crocketfordwith Monument Governor Winsome
3rd– Alisa Buchanan, Laigh Kilphin Farm with Tintoview Governor Inga
4th– Georgia Kerr leader for C & N Heuchan, Crofthead Cottages with CaldewvalleyGovernor Evita
5th– Lauren McLachlan leader for M & J.G Dunlop, Bishopton, Kirkcudbright withCraigraploch Dorcy Holly
Class3c Junior Handling Class
1st – Megan Heuchan
2nd– Georgia Kerr
3rd– Alisa Buchanan
4th– Ruby Patterson
5th– Michael Widdowson
6th– Brooke Martin
Class3D Senior Handling Class
1st– Jenny Yates
2nd-Kirsty Yates
Class4 – Ayrshire Heifer in Milk
1st– L Davidson & Sons, Halmyre, Haugh of Urr with Halmyre Urr Floralin 174
2nd-L Davidson & Sons, Halmyre with Halmyre Urr Louise 283
3rd– L Davidson & Sons, Halmyre with Halmyre Urr Ladybird 446
4th– Allan Clark, Fineview Farm, Glenluce with Fineview Crown Melaine
5th– W .A McDowell, Culroy, Glenluce with Culroy Deborah 47
Class5 – Holstein Heifer in Milk
1st– B & V Davidson, Errolston, Gretna with Errolston Iota Ricki
2nd– David Yates, Meikle Firthhead with Meiklefirth Goldfish Wallen
3rd– Brain Yates, East Logan with Logan Dude Gail
4th– James McMiken, Prestrie Farm, Isle of Whithorn with Prestrie Delight
5th– David Yates, Meikle Firthhead with Meiklefirth Damion Janet
6th– M & J.G Dunlop, Bishopton with Craigraploch Denethor Dorothy
Class6 – Jersey Heifer in Milk
1st– J R Heuchan & Son, Gerranton, Castle Douglas with Gerranton Legacy Megan
Class7– Any Other Breed Heifer or Cow in milk
1st– R & S McColm, High Boreland with Soulseat Jublend Beatrice
2nd– R & S McColm, High Boreland with Highlight Pro-View Roseanna
3rd– T.Lochhead & Sons, Beyond The Burn, Mouswald wth Kedar Seattle Glenda
4th– T.Lochhead & Sons, Beyond The Burn with KedarKSD Felicia
Class8 –Ayrshire Junior Cow in Milk
1st– L Davidson & Sons, Halmyre with Halmyre Urr Louise 260
2nd– Allan Clark, Fineview Farm with Fineview Prodigy April
3rd– G.G Baynes & Son, Marley Cote Walls with Marleycote Pat 4
Class9 – Holstein Junior Cow in Milk
1st– David Yates, Meikle Firthhead with Meiklefirth Matson Penny
2nd– K & M Jamieson, Woodhead Farm, Annan with Annan Xacobeo Helen
3rd– Brian Yates, East Logan with Sahara Atwood Ambrosia
4th– Fraser Nicholson, Newhouse Farm, Dumfries with Sandley Dorothy 21
5th– M & J.G Dunlop, Bishopton with Craigraploch Prince Cree
Class10 –Jersey Cow in Milk
1st– R.Buchanan, Laigh Kilphin Farm with Bluegrass Shandys August Blondie
2nd– R.Buchanan, Laigh Kilphin Farm with Homeland on Time Java
3rd– JR Heuchan & Son, Gerranton Farm with Wheelbirks Lexington Rose 3
4th– JR Heuchan & Son, Gerranton Farm with Gerranton Flagship Alesha
Class11 – Ayrshire Senior Cow
1st– L Davidson & Sons, Halmyre with Halmyre Urr Martha 25
2nd– G.G. Baynes & Son, Marley Cote Walls with Marleycote Annette 5
3rd– Allan Clark, Fineview Farm with Changue Melanie 200
Class12 – Holstein Senior Cow
1st– Brian Yates, East Logan with Kellywell Marshall Brooke
2nd – B & V Davidson,Errolston with Errolston Damion Ricki
3rd– Robert Agnew, West Dhuloch, Kirkcolm with Kepculloch Bradley Irina
4th– M & J.G Dunlop, Bishopton with Craigraploch Baxman Ulida
5th– David Yates, Meikle Firthhead with Meiklefirth Atlas Dainty
6th– Brian Yates, East Logan with Logan Roxsam Belle
7th– K & M Jamieson, Woodhead Farm with Annan Bolivia Kera
Class13 – Interbreed 50 Tonne Class
1st– Brian Yates, East Logan with Kellywell Marshall Brooke
2nd– B & V Davidson, Errolston with Errolston Damion Ricki
3rd– David Yates, Meikle Firthhead with Meiklefirth T Gibson Illa
4th– L Davidson & Sons, Halmyre with Halmyre Urr Louise 211
5th– R & S McColm, High Boreland with Highlight Pro-view Roseanna
6th– G.G Baynes & Son, Marley Cote Walls with Morwick Fawn 3
7th– T. Lochhead & Sons, Beyond The Burn with Keder Seattle Glenda
The Championship classes then followed with winners below:
Ayrshire Champion  – L Davidson & Sons,Halmyre, with Halmyre Urr Louise 260
Reserve Champion   – L Davidson & Sons,Halmyre with Halmyre Urr Floralin 174    
Exhibitor Bred  -L Davidson & Sons –Halmyre, with Halmyre Urr Louise 260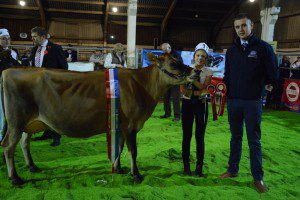 Jersey Champion –  R.Buchanan, LaighKilphin Farm with Bluegrass Shandys August Blondie 
Reserve –    R.Buchanan, LaighKilphin Farm with Homeland on Time Java              
Exhibitor Bred –  J R Heuchan & Son, Gerranton withGerranton Legacy Megan
Holstein Champion  – Brian Yates, East Logan with KellywellMarshall Brooke( pictured at top of the page )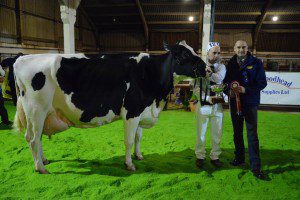 Reserve – B & V Davidson, Errolston with Errolston DamionRicki           
Exhibitor Bred – B & V Davidson, Errolston with Errolston DamionRicki