In the October blog from Lockerbie based Owen Farm Services , The team from OFS discuss Nutrient Planning, IACS and some of the up and coming Key Dates for the coming months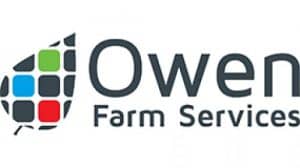 Nutrient Planning
A regular theme that came up while discussing the Scottish Agricultural Climate Grant Scheme (SACGS) was nutrient planning. It important for a farm to plan their manure and fertiliser applications to ensure they are using only what they need. Using only what you need is good for the environment and your business.
The starting point for accurate nutrient planning is soil sampling. Using Terramap by Hutchinsons we can scan your fields collecting 800 data points per hectare. These results are then loaded onto the Omnia platform where up to 21 map layers are generated and will form your farm's base results. We will use these results to provide recommendations for the nutrient applications for the coming year.
We have various packages available to sample your fields and provide you with recommendations.
IACS
While 2020 is drawing to a close, our thoughts are turning to IACS 2021. We request new farm maps every year before the application window opens on 15th of March as the starting point for each application. If you have made changes to your field boundaries over the course of the year, it would help the application process to update your maps as soon as possible. We are happy to assist you with this process.
One area of the application process to consider at this time of year is Greening, especially if you grow cereal crops on your farm. If you do, then you may need to undertake additional management in the form of Environmental Focus Areas (EFAs) to meet the Greening rules. As in 2020 the crop diversification/three crop rule, no longer applies.
We had to change our processes in 2020 due to the COVID-19 restrictions. This involved online gathering of field information through our Argi-ignite platform. Once all the information was validated by the team at Owen Farm Services and digital sign off made available for the client before  each claim was submitted. This has had very good feedback, and has enabled the client to get usable data throughout the year.
Please contact us to discuss your 2021 crop plans and your potential EFA requirements.
Key Dates
| | |
| --- | --- |
| Scheme | Application Deadline |
| Sustainable Agriculture Capital Grant Scheme (SACGS) | Midnight 11th October 2020 |
| Scottish Upland Sheep Support Scheme (SUSSS) | 30th November 2020 |
| Scottish Suckler Beef Support Scheme (SSBSS) | 31st December 2020 |
| Sustainable Agriculture Capital Grant Scheme (SACGS) | 31st March 2021 – deadline to claim funding from SPS |
| IACS 2021 | 15th May 2021 |
We can be reached on the phone (01461 600540), email (office@owenfarmservices.co.uk), social media (@farmadvice) Facebook – Twitter
STAFF FEATURE
Derek Purdie is one of the consultants working within Owen Farm Services, he started with the company in April 2015.
Derek grew up on dairy farms and returned to agriculture after working extensively within investment fund compliance and accounting. This experience ensures Derek is well placed to discuss your compliance and budgetary requirements. Utilising tools like Xero, Ignite, Derek can streamline and improve your farm bookkeeping to make the data work for you to improve your business.
He also is experienced in completing environmental management plans to enhance the biodiversity on your farm.