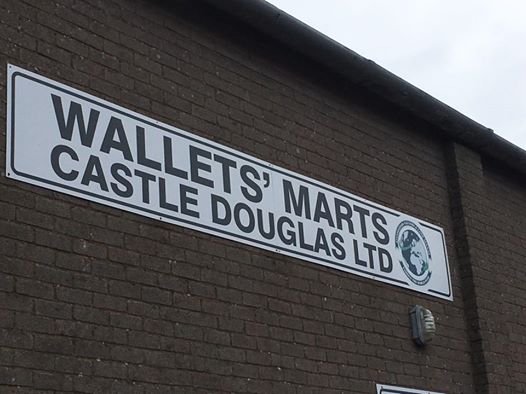 Wallets Marts Castle Douglas Limited on Tuesday 14th March 2017 had forward 885 Prime hoggs and 85 cast sheep.
885 Prime hoggs sold to average 161.66ppkg (SQQ 163.74). Well fleshed sheep would be similar on the week with plainer sheep showing resistance.
Top per head was £90 for Texel hoggs from Messrs Brown Drumcoltran which was also top price per kg at 200p.
85 cast ewes were scarcer but were sharper in line with other centres.
177 25.5-32 Average 160.04 Top 182.8
Cheviot
£54.20 Ernespie
Texel
£58.50, £51.50 Irelandton
Blackface
£50.50, £48.50 Ardoch; £49.50 Falbae; £49.50 Irelandton
252 32.1-39 Average 163.82 Top 193.6
Texel
£75.50 Lochdow; £70 Little Culmain; £66 Irelandton; £65 Muil
Cheviot
£63, £60 Ernespie; £59, £57.80 Irelandton
Blackface
£61.50, £60.50 Irelandton; £59.50, £57 Ardoch; £59.50 Falbae; £59 Glen
175 39.1-45.5 Average 166.325 Top 200
Texel
£90 Drumcoltran; £87.50, £72.50 Southwick; £76.50 Culnaightrie; £74.80 Smallmuir; £72.50 Nether Corsock
Cheviot
£74.50, £71.50 Halket Leaths; £70.50 Ernespie
Suffolk
£74.80 Boreland of Girthon; £74 Culnaightrie; £70 Smallmuir
Greyface
£72 Boreland of Girthon; £69.50 Pulcree
Blackface
£64 Glen
175 45.6 – 52 Average 162.16 Top 167
Texel
£84 Southwick; £82.80 High Glasnick; £82 Halket Leaths; £80.50 Garrochtrie; £80 Irelandton; £79 Pulcree
Suffolk
£79.50 Samllmuir; £77.20, £76.20 Garrochtrie
Greyface
£79 High Glasnick
Cheviot
£76.50 Halket Leaths
65 52+
Texel
£85, £84 Little Culmain; £83.20 High Glasnick; £83 Hannaston
Suffolk
£84.50 Boreland of Girthon; £80.50 Garrochtrie
Greyface
£79 High Glasnick; £75 Alvingham Avenue
Ewes
Suffolk
£88 Culnaightrie
Texel
£85 Culnaightrie; £82.50 Lochdow
Greyface
£73.50 High Glasnick; £73 Culnaightrie; £72.50 Pulcree
Blackface
£57 Garroch Estate; £52 High Glasnick; £51 Boreland of Girthon
Rams
£77 Irelandton
Comments
comments