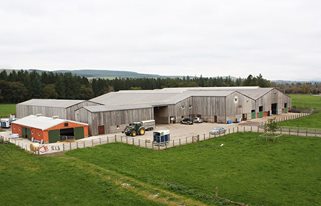 Scotland's Rural College (SRUC) has appointed its first Professor of Dairy Nutrition as part of the expansion of its South & West faculty.
Dr John Newbold will join SRUC in August in a key role contributing to the development of dairy teaching, research and consultancy.
A proposed £35 million investment in the Barony campus, near Dumfries, will include state-of-the-art facilities for dairy research.
Over the past 30 years, Dr Newbold has worked in a range of research and development and technical positions in the animal feed industry in the UK, Belgium, Netherlands and USA. During this time, he has collaborated with leading dairy research groups in universities around the world.
He is currently head of the technical team at dairy nutrition company Volac.
Dr John Newbold

He said: "I'm really looking forward to building my understanding of dairy farming in Scotland and engaging with the treasure-trove of expertise at SRUC.

"I really hope that my experience will contribute to the collective effort of taking the industry forward."

Professor Wayne Powell, Chief Executive and Principal of SRUC, said: "I am delighted to welcome John to our team as SRUC moves towards its vision of becoming a rural enterprise university.

"This is a key role which will contribute to, and grow, key areas of scientific research to enhance our activities in dairy teaching, research and consultancy during this period of exceptional change within the rural economy in Scotland and beyond."
Comments
comments