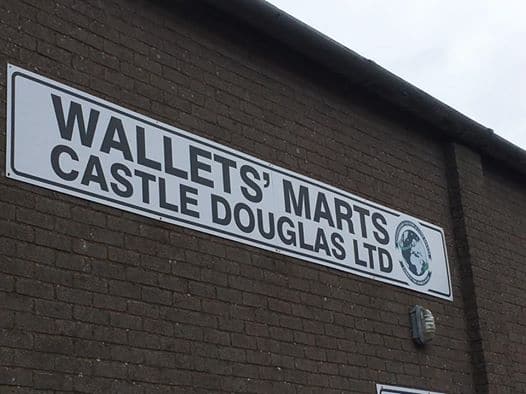 WALLETS MARTS CASTLE DOUGLAS LIMITED
MONDAY 25TH MAY 2020
OTM AND STORE CATTLE
Wallets Marts Castle Douglas Limited on Monday 25th May 2020 had forward 76 Store and OTM cattle.
A poorer quality show of 45 cows were forward and met outstanding demand to average almost 130ppk – topping at 151ppk from Horsecrook.
Stores were in short supply but again met a strong trade topping at 244ppk for Charolais steers from Messrs Menzies, Burn, Thornhill.
Leading Prices
Bullocks
Belted Galloway
£1010, £920 Irelandton
Galloway
£975 Garrochtrie
Limousin
£930, £910 Little Larg
Angus
£860 Burn
230 Burn
Charolais
£820, £810, £800 Burn
244, 230, 229.2 Burn
Heifers
Charolais
£820 Lochside
Saler
£760 Lochurr
206.5, 202.8 Lochurr
OTM CATTLE
Heifers
£893.20 Irelandton; £753.36 Margrie
145, 143 Irelandton
Bullocks
151 Horsecrook
Bulls
£1094.36 Irelandton
109 Irelandton
Cows
Angus
£1027.50 Castlehill; £931 Garrochtrie; £913.68 Cogarth
142, 140, 139 Irelandton; 141,138 Cogarth; 137 Castlehill
Luing
£1012.38 Hillside
141 Hillside
Simmental
£954.72
143 Buittle Mains; 136 Hillside
Limousin
£781.74 Garrochtrie
143 Garrochtrie
Blue Grey
£765.6 Margrie;  £727.04 Lochside
133, 132 Margrie
Hereford
£742.50 Hill of Balmaghie
WALLETS MARTS CASTLE DOUGLAS LIMITED
TUESDAY 26th MAY 2020
WEEKLY PRIMESTOCK SALE
Wallets Marts Castle Douglas Limited on Tuesday 26th May 2020 had forward 545 prime and cast sheep.
125 Spring lambs sold to average 227.41 (SQQ 230.5)
Huge shows of lambs in the South yesterday resulted in lambs being cheaper than Monday's trade.  This being said as companies switch completely from hoggs to lambs more will be needed to fill orders in the coming weeks.
Lambs sold to £109 for Texels from Lagganorie Farm Trust, Gatehouse of Fleet.  Top price per kilo was 252.5 for sweet Texels from Messrs Wilson, West Barmoffity.
An end of season show of hoggs sold to a top of £85 for Texels hoggs from Low Creoch and topped at 193.9 for Cheviots from Irelandton.
Cast sheep were a lesser show for quality with overfat ewes hard to place.  Lean ewes in comparison were easily sold.  Top was £100 for Texels from Low Creoch.
LEADING PRICES
Prime Lambs
8              32.1 – 39                              Average 238.49                 Top 250
Texel
£95 West Barmoffity; £90 High Borgue
250 West Barmoffity; 236 High Borgue
92           39.1 – 45.5                           Average 229.28                 Top 252.5
Texel
£107, £106, £101 West Barmoffity; £99 Lagganorie; £98 Meikle Kirkland; £98 High Borgue
252.5, 252.4, 243.2 West Barmoffity; 235 High Borgue; 234.9 Shirmers; 234.1 Maryfield
Suffolk
£103 Newmains
237.5, 229.9 Newmains;
Roussin
£94 Lagganorie
235 Lagganorie
15           45.6 – 52                              Average 223.48                 Top 229.8
Texel
£109 Lagganorie; £107, £105 Meikle Kirkland
229.8, 221.5 Meikle Kirkland
8              52+                                         Average 193.14                 Top 201.9
Texel
£108 Meikle Kirkland
201.9 Meikle Kirkland
Suffolk
£98 Lagganorie
Prime Hoggs
Texel
£85 Low Creoch; £82 Irelandton; £80 Potterland
193.9 Irelandton
Greyface
£74, £73 Rankinston; £70 Beoch Loch Doon
175.10 Rankinston
Blackface
£73 Rankinston; £71 Speddoch; £70 Pulcree; £70 Beoch Loch Doon; £70 Castlegower
183.3 Irelandton; 181.1 Speddoch
Cast Sheep
EWES
Texel
£100, £94.50 Low Creoch
Cheviot
£72.50 Irelandton
Mule
£67.50 Mull of Galloway; £64.50 Balgerran
Blackface
£56.50 Castlegower; £52.50 Rankinston; £51.50 Beoch Loch Doon
RAMS
£89.50 Barwhanny