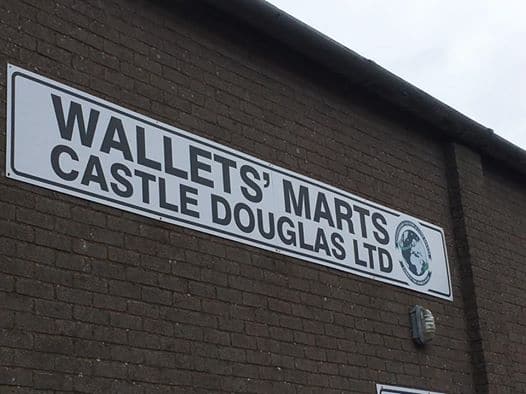 Wallets Marts Castle Douglas Limited on Tuesday 11 June 2019 had forward 535 Prime and Cast Sheep.
392 prime lambs sold to average 219.5ppk.  Again the best quality export lambs were in high demand, selling in excess of 230ppk to a top of 265.8ppk for Texels from Messrs Wilson, West Barmoffity, Kirkpatrick Durham.  Lambs with a bit of weight were also easily sold, selling to £103.50 for Suffolks from Gelston Castle Farms, Castle Douglas.
Again ewe and hogg numbers were tight.  Well fleshed hoggs were still well bid for to a top pf £88 for Texels from Newmains, Shawhead.  Ewes sold to £85.50 from Irelandton, Twynholm.
Lambs
100         32.1-39                 Average 227.96                 Top 265.8
Texel
£101, £92, £90 West Barmoffity; £89.50 Maryfield
265.8, 236.5, 235.9 West Barmoffity; 231.3 Maryfield
Suffolk
£82.50 Newmains
211.5 Newmains
290         39.1 – 45.5           Average 216.76                 Top 246.3
Texel
£101, £100.50 Gelston Castle; £100 Mossyard; £98.50 Low Arkland; £97.50 Palmallet; £96.50 Shirmers
246.3, 230.7, 228.50 Gelston Castle; 229.1 Low Arkland; 226.8 Upper Hardland
Suffolk
£99.50, £94.50 Mossyard; £96.50 Newmains; £95 Palmallet; £94 Gelston Castle
223.8 Gelston Castle; 222.10 221.8 Mossyard; 219 Newmains; 215.4 Palmallet
2              45.6+                     Average 225
Suffolk
£103.50 Gelston Castle
225 Gelston Castle
Hoggs
£88 Newmains; £80, £74 Irelandton
Cast Sheep
EWES
Texel
£85.50, £68.50 Irelandton; £72.50 Fauld O'Wheat; £71.50 South Quintinespie
Suffolk
£82.50 Meikle Kirkland
Chev Mule
£61.50 Meikle Kirkland
Cheviot
£62.50 Irelandton
Greyface
£59.50 Fauld O'Wheat
Blackface
£61.50 Cullinaw; £55.50 Fauld O'Wheat
Comments
comments