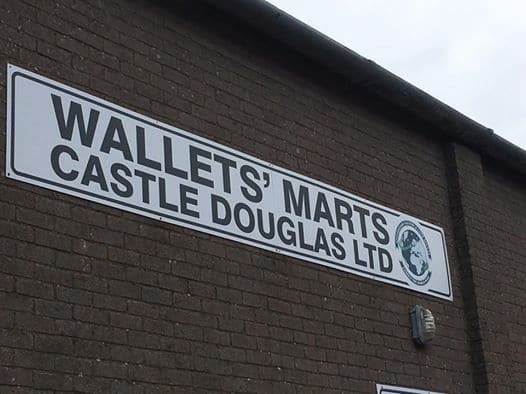 Wallets Marts Castle Douglas Limited on Tuesday 14th January 2020 had forward 2025 prime and cast sheep.
1599 prime hoggs sold to average 207.6 (SQQ 211.2).  A larger show of lighter sheep was forward and would be sharper on the week.  Heavy sheep were a plainer show and sold to a similar trade.
Top today was £110 for an outstanding beltex hogg from Messrs Craig, Compstonend, Twynholm.  Top per kilo was 269.2 for beltex hoggs from Messrs Campbell, Carsewalloch, Creetown.
Blackface lambs sold to £91.50 from Knocksheen with top per kilo being 214.3 for export lambs from High Creoch.
426 cast sheep were again a sound trade selling to £123 for a Texel from Auchenhill, Dalbeattie.
Leading Lamb prices
81           25.5-32                                 Average 204.2                   Top 226.7
Texel
£68 Glentoo; £67 Mains of Machermore; £64.50 Glenkiln
226.7 Glentoo; 216.1 Mains of Machermore; 208.1 Glenkiln
Blackface
£63.50 Brockloch, New Cumnock; £62.50 Glenkiln; £60.50 Culdoach
204.8 Brockloch, New Cumnock; 201.6 Glenkiln; 199 Culdoach
Shetland
£62.50 Galtway
208.3 Galtway
Cheviot
£62.50 East Altercannoch
207 East Altercannoch
384         32.1 – 39                               Average 208.4                   Top 269.2
Beltex
£105, £93 Carsewalloch; £98 Kenmure; £95 Compstonend
269.2, 244.7 Carsewalloch; 251.3 Kenmure; 243.6 Compstonend
Texel
£82, £79.50 Southwick; £81 South Quintinespie; £80 Breconside; £79.350 Barlocco; £79 Glenkiln
220.6 Glentoo; 215.8 (x2), 215.3 Southwick; 214.9 Barlocco; 213.2 South Quintinespie; 211.4 East Altercannoch
Suffolk
£79.50 Breconside; £78 Brandleys
209.2 Breconside; 205.3 Brandleys
Blackface
£78, £74 High Creoch; £75 Craignell; £71, £68 Brandleys; £69.50 Walton Park
208.7 Walton Park; 208, 203.2 High Creoch; 204.2, 202.9 Brandleys;
Cheviot
£75 East Lanegate
208.3 East Lanegate
Greyface
£73.50, £73 Glentoo; £72.50(x2) Glenkiln
208.6, 2008 Glentoo; 207.1 Glenkiln
Shetland
£77, £73.50, £69 Galtway
210, 209.1, 208.1 Galtway
662         39.1 – 45.5                           Average 213.7                   Top 257.5
Beltex
£104, £100, £99 Carsewalloch; £103, £98 Gass; £101.50 Compstonend; £100 Halket Leathes; £99 Kenmure
257.50 Gass; 250 Halket Leathes; 245 Gass; 241.7 Compstonend; 237.4, 235 Carsewalloch
Texel
£104 Southwick; £99 East Barmoffity; £97 Muircleugh; £96 Halket Leathes; £96 Gass; £95.50 Castlehill
243.8 East Barmoffity; 241.9 Southwick; 236.3 Breckoniehill; 229.6 Castlehill; 223.3 Gass; 222.5 Barlocco
Suffolk
£94.50 Breconside; £92.50, £90 Airyolland;
215.1, 214.3 Airyolland; 212.8 Breconside
Cheviot
£96, £93, £86  Gass; £87.50 Edingham;  £85 East Lanegate
226.8, 223.3, 215 Gass; 218.8 Edingham; 212.5 East Lanegate
Greyface
£91.50 Walton Park; £88, £84 Glenkiln; £84.50 Castlegower; £84 Mossyard
217.3, 205.4 Glenkiln; 209 Mossyard; 204.7 Walton Park; 204 East Lanegate
Roussin
Blackface
£91.50 Knocksheen; £90, £84 High Creoch; £87 Hannaston
214.3, 211.1 High Creoch; 212.2 Hannaston
412         45.6 – 52                               Average  201.2                  Top 214.9
Texel
£108.50, £104.50 Farhills; £106 Fagra; £105.50, £103 Barharrow; £105 Corra; £105 Mossyard; £104.50; £104 Park of Tongland; £103.50 Castlehill; £103 Drumcruilton
214.9 Farhills; 214.9 Balgerran; 214.30 Corra; 212.80 Low Creoch; 209.30 Townhead of Greenlaw; 208.50 South Quintinespie; 208.30 Muircleugh; 207.8 Fagra; 207.60 Halket Leathes
Beltex
£99.50 Compstonend
207.7 Compstonend
Suffolk
£103.50 Mid Threave; £102.50 Barharrow; £99 Glenkiln; £99 Castlehill
207.8 Mid Threave; 206.30 Glenkiln; 205, 202.20 Barharrow
Greyface
£9750 Fagra; £94.50, £91 Knocksheen; £90.50 Castlegower
198.70 Knocksheen; 196.70 Castlegower; 191 Castlehill; 190.80 Fagra
60           52+                                         Average 184                       Top 196.3
Beltex
£110 Compstonend
Texel
£109 Hillside; £106 Muircleugh; £105 Farhills; £105 Mid Threave; £104.50 Newton; £104.50 x 2 Drumcruilton; £104 x 2, £100 Low Creoch
Suffolk
£102.50 Mid Threave; £95 Airyolland
Greyface
£100 High Creoch
BFL
£93 South Qunintespie
Cast Sheep
EWES
Texel
£123 Auchenhill; £105 Grange; £102.50 Farhills; £101.50 Lower Ardmannoch; £98.50 Castlehill; £98.50 Low Creoch ; £97.50 West Barmoffity; £95.50 Newton; £95.50 Grange; £94.50 Fagra
Beltex
£98, £88 Upper Hardland; £88 Corra
Greyface
£93.50, £87.50  Muircleugh; £93.50 Newton; £92.50 Fagra; £88.50 Mossyard; £87.50 Kenmure
Cheviot Mule
93.50 Low Creoch; £82.50 Killochy
Cheviot
£95.50, £85.50 East Lanegate; £78.50 Edingham
Blackface
£92.50 Mossyard; £78.50 Old Cluden; £76.50 Newton; £74.50 Upper Hardland