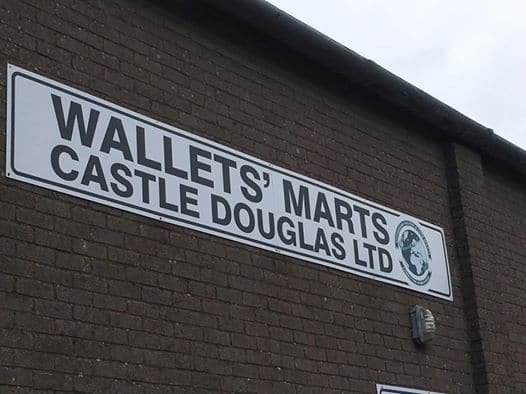 Wallets Marts Castle Douglas Limited on Tuesday 28 th July 2020 had forward 1723 prime and cast sheep.
1440 prime lambs sold to average 232.8 (SQQ 233.04). All classes were keenly bid for averaging an incredible £95.45 up £19 on the year. Top today was £117 on two occasions firstly for export weight Beltex from Messrs McCornick, Barnbackle then for heavy Texels from Messrs Brown, Drumhumphry. Top per kilo was 284.2 for cracking Texels from Messrs
Williamson and Ross, Breckoniehill with a further 22 pens (155 lambs) selling over 250ppk.
Cast sheep were a sound trade again selling to £110.50 for Texels from Maryfield with Rams to £109 for BFL from Ashmark, New Cumnock.
LEADING PRICES
Prime Lambs
290 32.1 – 39 Average – 228.83 Top – 284.2
Texel
£108 Breckoniehill; £104, £102 West Barmoffity
284.2 Breckoniehill; 266.7, 261.5 West Barmoffity; 250 Carseriggan; 250 Breckoniehill
Lleyn
£88.50 High Milton
226.9 High Milton
Beltex
£86 Gass
228.1 Gass
Suffolks
£88.50 Ashfield; £79.50 Carleton
226.9 Ashfield; 220.8 Carleton; 219.9 Bellymackhill
Charolais
£87.50 Millhill
224.4 Millhill
Greyface
£84.50 Hannaston; £84 Ardoch
228.4 Hannaston; 221.6 Ardoch; 221 Stroangassel 1100 39.1 – 45.5 Average – 234.15 Top – 278.6
Beltex
£117 Barnbackle; £116, £111 Finniness; £113, £109 Upper Hardland; £111, £111, £107 Trowdale
278.6 Barnbackle; 277.5, 255.5 Trowdale; 275.6, 269.1 Upper Hardland; 265.9 Kenmure; 263.6 Finniness
Texel
£113 Drumcoltran; £113 Carseriggan; £109 Killochy; £108.50 Balannan; £107.50 Meikle Barncleugh
269 Drumcoltran; 269 Carseriggan; 260 Barnbackle; 259.50 Killochy; 254.30 Southwick; 252.40 Ashfield
Charolais
£100, £98, £97 Millhill; £93 Shennanton
243.9. 236.6 Millhill; 221.4 Shennanton
Suffolk
£98.50 Balanan; £98 Mill of Plunton; £97 Newmains
232.1 Glentoo; 228.2 Newmains; 228 Wellhill
Greyface
£98.50 Upper Hardland; £94.50 Craigton Dairy House
229.1 Upper hardland; 225 Craigton Dairy House; 216.1 Ardoch
49 45.6 – 52 Average – 226.28 Top – 235.4
Texel
£117 Drumhumphry; £116, £111 Glenkiln; £114 Strathgally; £113 Nether corsock; £112 Mill of Plunton; £112 Newmains
235.1 Strathgally; 234.8 Bargatton; 233.3 Mill of Plunton; 232.2, 227.5 Glenkiln; 229.4 Drumhumphry
Beltex
£116 Trowdale
227.5 Trowdale
Suffolk
£115, £113 Lower Ardmannoch; £113 Mill of Plunton
235.4, 225.5 Lower Ardmanoch; 221.6 Mill of Plunton
Charolais
£114 Millhill
228 Millhill
Dorset
£106 Balnab
203.8 Balnab
Greyface
£99 Hannaston
210.6 Hannaston
Cast Sheep
EWES
Texel
£110.50, £107.50 Maryfield; £109.50 Drumcoltran; £108.50 Capenoch; £105.50 Upper Hardland
Blue Faced Leicester
£106.50 Burnton; £102.50 Finniness; £93.50 Burnton
Beltex
£105 Finniness
Greyface
£95.50 Capenoch; £93 Maryfield; £88.50 Barharrow
Cheviot
£82.50 Slatehouse; £73.50 Eastlands
Lleyn
£77.50 Gass
Blackface
£67.50 Chirmorrie; £67.50 Upper Hardland: £67.50 Ardoch
RAMS
Blue Faced Leicester
£109 Ashmark; £101 Ardoch
Blackface
£75 Chirmorrie