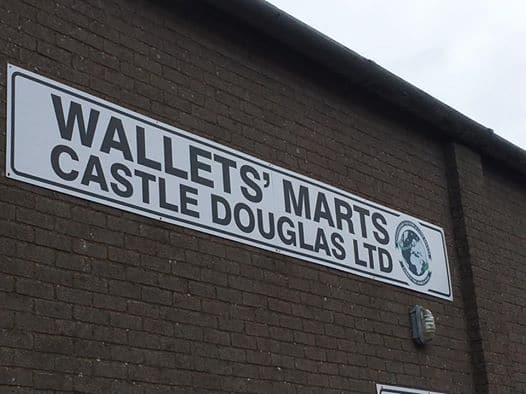 Wallets Marts Castle Douglas Limited on Tuesday 9th January 2018 had forward 1602 prime hoggs and cast sheep.
1301 prime hoggs sold to average 185.6 (SQQ 187.42).  All classes would be sharper on the week with many more being sought after especially best bred lambs which topped at £117 (285.4ppk) for Texels from Messrs Kerr, Midtown, Castle Douglas.  Heavyweights topped at £100 for Texels from Messrs Locke, Park of Tongland, Kirkcudbright.
Cast sheep would be a steady trade.  Heavy ewes looked slightly less with light ewes looking sharper.  Topping the sale was Texels from Low Creoch at £85.
Hoggs
21        25.5-32                        Average 159.5                       
Cheviot
£48 Irelandton
262      32.1-39                        Average 187.7                        Top 266.7
Texel
£104, £93 Douganhill; £86 Midtown; £83.50 Barnbackle
Beltex
£79 Compstonend
Lleyn
£77 Fellend
Cheviot
£70 Irelandton
Blackface
£60 Meikle Carton; £59.50 Holm of Dalquhairn
759      39.1-45.5         Average 187.88          Top 266.7
Texel
£117 Midtown; £106 Douganhill; £100 Low Creoch; £95.50 Killochy; £91 Lower Ardmannoch
Beltex
£107 Bridgestone
Suffolk
£82 Fellend; £79.50 Torrs; £79 Lower Ardmannoch; £78.50, £76 Carswadda
Cheviot
£81 Carswadda
Lleyn
£78 Garrarie
Greyface
£73 Boreland of Girthon; £72 Culdoach; £70 Cotland
Blackface
£71 Boreland of Girthon
187      45.6 – 52          Average 181.14                      Top 202
Texel
£99 Midtown; £96, £90 Low Croech; £94.50 Douganhill; £94 South Quintinespie; £94 Lagganorie; £94 Little Park; £93 Farhills
Suffolk
£98 Garrarie; £92 Lagganorie
Greyface
£85 Lagganorie; £81 Newton
72        52+                  Average 176.21                      Top 185.8      
Suffolk
£92 Lagganorie
Texel
£100, £98.50 Park of Tongland; £97.50 Breckoniehill
Cheviot
£87 Low Creoch
Cast Sheep
Ewes
Texel
£85 Low Creoch; £79 Farhills; £79, £77 Drumcoltran; £77 Barnbackle; £76 Clonhie
Suffolk
£71 Hartburn
Greyface
£65 Torrs; £64.50 Hartburn; £64 Low Creoch; £62 Cotland
Cheviot
£66 Clonhie; £53 Irelandton
Blackface
£47.50 Falbae; £45.50 Barwhinnock; £41.50 Laghead; £41.50 Irelandton
Rams
Texel
£75 Barnbackle
Beltex
£59 Clonhie
Comments
comments