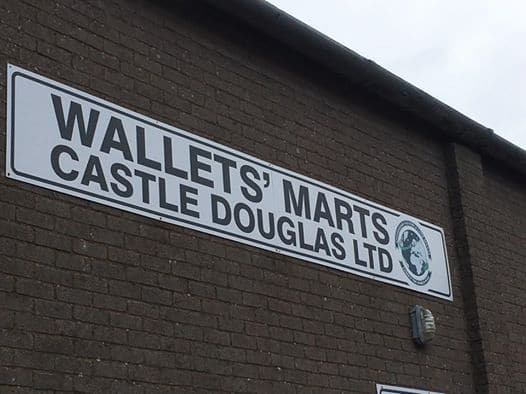 WALLETS MARTS CASTLE DOUGLAS LIMITED
TUESDAY 5 MARCH 2019
WEEKLY PRIMESTOCK SALE
Wallets Marts Castle Douglas Limited on Tuesday 5 March 2019 had forward 1002 Prime and Cast Sheep
634 prime hoggs sold to average 172.32 (SQQ 176.96).  A mixed show for quality were a lesser trade as has been seen at centres at the end of last week and start of this week.  Sheep lacking finish were noticeably less as were overfat and heavy sheep.  Well fleshed sheep up to 43 kgs were the easiest to sell.
Top today was £92 for Texels from Little Culmain, Crocketford. Top per kilo was a pen of smart Texels  at 213.3 from Messrs Campbell,  Tappit Lane, Elrig.
364 Cast sheep would be a touch sharper topping at £113.50 for Texel rams from Castlehill.  Ewes to £98.50 for Texels from Midtown.
Leading hoggs per head
50           25.5 – 32                              Average 131.97                 Top 186.7
Texel
£56 Kenmure, Kirkcowan; £57 Southwick
Blackface
£53 Glen
194         32.1 – 39                               Average 181.2                   Top 189.7
Texel
£74 Redcroft; £72 Tappit Lane; £66 Overlaggan
Blackface
£74 Falbae; £72 Glen; £67 Hannaston; £63.50 Bettyknowes
202         39.1 – 45.5                           Average 181.01                 Top 213.3
Texel
£90, £84, £83 Tappit Lane; £78 Southwick; £77 Kenmure; £77 Old School House
Blackface
£82 Glen
Suffolk
£78 Bettyknowes
Cheviot
£77 Edingham
Greyface
£74 Tappit Lane; £73 Bettyknowes
167         45.6 – 52                               Average 164.96                 Top 175.1
Texel
£88, £84.50 Little Culmain; £82.50 Ernespie; £80.50 Newton
Suffolk
£83 Longbeoch; £82 Edgarton; £81 Old School House
Cheviot
£86.50, £80 Halket Leathes
Greyface
£75 Overlaggan; £75 Long Beoch
21           52+                         Average 163.19                                 Top 167
Texel
£92 Little Culmain; £89 Edgarton; £87.50 Ernespie; £86.50 Old School House
Cast Sheep
EWES
Texel
£98.50 Midtown; £87.50 Kelloside; £81.50 Muircleugh; £76.50 Cotland
Suffolk
£95.50 Castlehill
Charolasi
£86.50 Eastlands
BFL
£76.50 Eastlands
Mule
£68.50, £66.50 Midtown; £63.50, £62.50 Long Beoch; £62.50 Muircleugh
Lleyn
£66.50 Poldean
Blackface
£53.50 Mossyard; £49.50 Long Beoch; £47.50 Eastlands; £46.50 Garroch Est; £43.50 Glenlee
Tups
Texel
£113.50 Castlehill; £102.50 Hartburn; £98.50 Cotland; £94.50 Little Culamin
Suffolk
£83.50 Castlehill
BFL
£69.50 Cotland
Blackface
£67.50 Castlehill; £56.50 Falbae