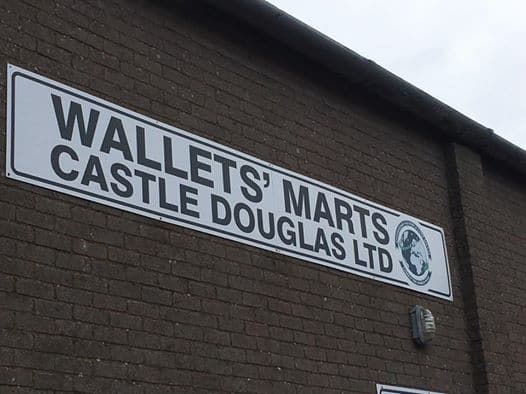 WALLETS MARTS CASTLE DOUGLAS LIMITED
TUESDAY 19th MAY 2020
WEEKLY PRIMESTOCK SALE
Wallets Marts Castle Douglas Limited on Tuesday 19th May 2020 had forward 542 prime and cast sheep.
109 Spring lambs sold to average 248.11 (SQQ 254.53).  All classes were easily sold, selling to £120 for smart Texels from Messrs Burgess, Maryfield, New Abbey, with top per kilo being 286 for a smart Texel from Messrs Watson, High Borgue, selling to Messrs Grierson, Butcher, Castle Douglas.
259 prime hoggs averaged 196.9 (SQQ 215.66).  Handyweight hoggs with meat were a flyer, selling to 244.4 for Texels from Messrs Johnston, Townhead of Culloch, Dalbeattie with the same hoggs selling to £110.
174 cast sheep were easier apart from lean ewes.  Overfat continues to be difficult to place.  Top was £125 for Texels from Twonhead of Culloch.
LEADING PRICES
Prime Lambs
23           32.1 – 39                              Average 253.4                   Top 264.1
Texel
£103 High Borgue
264.1 High Borgue
Suffolk
£97 Derrie
248.7 Derrie
59           39.1 – 45.5                           Average 254.94                 Top 286
Texel
£120, £111 Maryfield; £116, £114(x2) High Borgue; £111 Derrie; £110 Cotland
286 High Borgue; 283.7, 260 Maryfield
Suffolk
£111 Derrie
254.6 Derrie
Zwartble
£86 Smiddy Bungalow
215 Smiddy Bungalow
20           45.6 – 52                              Average 235.37                 Top 247.8
Texel
£116 High Borgue; £115 Newmains; £114 Derrie; £114 Rigghead; £114 Cotland
245.2 Cotland; 244.7 Newmains; 242.6 Rigghead; 236.7 High Borgue; 228 Derrie
Suffolk
£114 Newmains; £110 Rigghead
247.8 Newmains; 234 Rigghead
Zwartble
£96 Smiddy Bungalow
7              52+                                         Average 221.37                 Top 221.4
Suffolk
£116 Rigghead
221.4 Rigghead
Prime Hoggs
52           32.1 – 39                               Average 206.23                 Top 227.4
Herdwick
£88 Craigview
227.4 Craigview
Texel
£82 The Cottage; £79 Townhead of Culloch; £76 Poldean; £74 Barmagachan
224 The Cottage; 219.4 Townhead of Culloch; 217.6 Barmagachan; 217.1 Poldean
Greyface
£78 The Cottage; £72 Upper Clifton
213.7 The Cottage
Blackface
£76.50 Glenkiln; £70 The Cottage
218 Glenkiln
Suffolk
£76 Maxwelltown
112         39.1 – 45.5                           Average 219.3                   Top 244.4
Blackface
£102 Meikle Carton; £94 Glenkiln; £90 Irelandton
226.7 Meikle Carton; 214.3 Irelandton; 213.6 Glenkiln
Roussin
£100 Airyolland
238.1 Airyolland
Texel
£110 Townhead of Culloch; £100 Breconside; £96 Airyolland; £94 Dornells; £92 Barmagachan
244.4 Townhead of Culloch; 240 Airyolland; 227.6 Dornells; 227.3 Breconside; 224.1 Poldean; 223.3 Barmagachan
Beltex
£108 Garrarie
240 Garrarie
Cheviot
£101 Poldean
229.5 Poldean;
Greyface
£93 Upper Clifton
217.5 Dornells; 216.3 Upper Clifton
60           45.6 – 52                               Average 185.37                 Top 228.3
Texel
£105 Irelandton; £105 Airyolland; £103 Brockloch; £100 Poldean;
228.3 Airyolland; 214.3 Irelandton; 206.5 Derrie
Suffolk
£100 Garrarie
194.2 Garrarie
Cheviot
£99 Irelandton
206.3 Irelandton
Blackface
£96 Irelandton; £94 Glenkiln;
195.6 Irelandton; 180.8 Glenkiln
Mule
£96 Newton
192 Newton
37           52+                                         Average  154.65                Top 187.3
Texel
£103, £100 Townhead of Culloch; £100 Breconside; £99 Garrarie; £98 Poldean
187.3 Townhead of Culloch; 184.5 Breconside;
Greyface
£98 Newton
Cast Sheep
EWES
Texel
£125, £109 Townhead of Culloch; £91 Barmagachan
Suffolk
£89.50 Wheatcroft
Zwartble
£74.50 Smiddy Bungalow
BFL
£82.50 Mains of Collin
Blackface
£62.50, £61.50 Fingland; £61.50 Edgarton; £59.50 Derrie
Cheviot
£54.50 Barmagachan
Mule
£72.50 Brockloch; £71.50 Edgarton; £71.50 Balannan; £70.50 Breconside
RAMS
£99, £89 Garrarie; £77.50, £77 Chanlockfoot