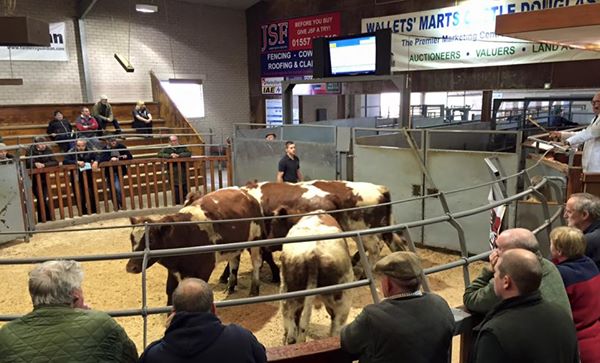 WALLETS MARTS CASTLE DOUGLAS LIMITED
MONDAY 25TH FEBRUARY 2019
OTM AND STORE CATTLE
STORE HOGGS
Wallets Marts Castle Douglas Limited held their fortnightly store sale on Monday 25th February 2019 when they sold 237 Store Cattle, 16 OTM Cattle and 365 Store Sheep.
Store Cattle were a plainer overall show with all types especially dairy bred cattle being harder to cash.  With deadweight prices continuing to slip downwards, linked to increased feeding costs, a lack of confidence within the store sector is now being experienced which is reflecting on prices.  Topping the sale at £1,230 were Limousin cross bullocks from Messrs Robb, Trolane whilst top price per kg was 245.9p for Limousin crosses from TB Hansell & Co, Nether Barr, Corsock.  Heifers sold to £1,185 for Limousins off Trolane and to 216.3p for Limousin crosses from Nether Barr.  Overall averages were 204.2p for bullocks (+3.4p on the last sale) and 190.5p for heifers     (-2.9p on the last sale).
A smaller show of 16 OTM Cattle met a stronger demand.  Grazing types sold to 132p per kg or £675 for a Simmental cross.  Finished cows topped twice at 131p for Simmental crosses and to £1,037.50 whilst average heifers sold to 140p per kg and £935.  Cast bulls made to 94p for a Stabiliser and £1,085.60 for an Aberdeen Angus.
Bullocks
Aberdeen Angus
£1205 Trolane; £850 (x2) Mayhaar; £815 Auchenleck
Limousin
£1230 Trolane; £1170, £1135, £1100 Nether Barr; £1165 Barlae; £1080 Killochy
Simmental
£1000 Mayhaar, £940 Slatehouse
British Blue
£885 Auchenleck
Charolais
£920, £860(x2) Cotland; £900, £865 Auchencairn House
Heifers
Angus
£955 Barlae
Limousin
£1185 Trolane; £1075 Nether Barr; £985 Killochy
Simmetal
£910 Mayhaar; £845 Slatehouse
Charolais
£940, £920 Killochy; £810 Shennanton
OTM
Bulls
£1085 Culnaightrie; £855 Congeith
Cows
£1037 Graplin; £998 Culnaightrie; £979, £961, £935 Trolane; £880 Upper Hardland
349 store sheep were forward and sold to a large ringside of bidders, selling to £80.50 for Texels from Midtown, and averaged £61.25
Texel
£80.50 Midtown; £77 Castlehill; £75 Kelloside
Suffolk
£69.50, £60 Nether Corsock
Greyface
£73 Castlehill; £68.50 Garroch Estate; £67 Rusko Farms; £67 Nether Corsock
Blackface
£60 Garroch Estates; £60, £56 Drumelzier; £59 Rusko Farms; £58 Knocksheen;
WALLETS MARTS CASTLE DOUGLAS LIMITED
TUESDAY 26 FEBRUARY 2019
WEEKLY PRIMESTOCK SALE
Wallets Marts Castle Douglas Limited on Tuesday 26th February 2019 had forward 2029 Prime and Cast Sheep
1429 prime hoggs sold to average 184.07 (SQQ 185.88).  All classes would be slightly sharper but with over half the sale being under 39kgs and some  lacking flesh this harmed the overall average although were still readily sold.
Top today was £104 for a Beltex hogg from Craigview, Springholm with top ppk going to Torhousekie, Wigtown for Beltex hoggs again at 236.6p
A larger show again of cast sheep sold similar with good ewes short of requirements.  Top was £124.50 for a Texel ram from The Grange.  Ewes topped at £111.50 for a pair of Texels from Byrecroft.  Blackface ewes sold to £55.50 from Drumelzier Place.
Leading hoggs per head
230         25.5 – 32                              Average 168.56                 Top 187.5
Easy Care
£55.50 Nether Laggan
Blackface
£60 Glen; £56, £55 Grobdale;
533         32.1 – 39                               Average 187.04                 Top 222.9
Beltex
£86.50 Tappit Lane; £84 Edingham
Texel
£78.50, £74.50 Irelandton; £77.50 Borgue House; £73 Midtown
Suffolk
£71.50 Galtway
Blackface
£70.50(x2) Midtown; £69 Glenlee; £69 Glen
Cheviot
£69 Kirkhaugh
438         39.1 – 45.5                           Average 191.2                   Top 236.6
Beltex
£97(x2) Torhousekie; £88 Craigview
Texel
£89 Breconside; £87.50 Balgerran; £86 Byrecroft; £85 Irelandton; £84.50 Mid Threave; £84 Garroch Est; £84 Torhouskie; £84 Torrs
Cheviot
£83.50, £81 Halket Leathes; £80 Craigview; £79 Kirkhaugh
Blackface
£82, £75.50 Glen; £80.50 Midtown; £75.50 Knockbreck
Greyface
£80 Nether Barr; £80 Mid Threave; £80 Overlaggan
197         45.6 – 52                               Average 180.58                 Top 194.9
Beltex
£96.50 Craigview; £89 Borgue House
Texel
£94, £91 Old School House; £94 Halket Leathes; £93 Mid Threave; £93.50, £92.50 Craigview; £92 Torrs
Suffolk
£89 Borgue House; £88 Barstibly
Greyface
£85 Hannaston; £81 Borgue House
Cheviot
£85 Craigview; £84 Halket Leathes
Charolais
£87 Low Arkland
20           52+                         Average 171.4                                   Top 185.7
Beltex
£104 Craigview
Texel
£94.50 Midtown
Suffolk
£92.50, £91 Galtway; £91 Barstibly
Cast Sheep
EWES
Texel
£111.50, £101.50 Byrecroft; £95.50 Midtown; £89.50 Drumcoltran
Suffolk
£87.50 Borgue House
Cheviot Mule
£67.50, £61.50 Grange
Lleyn
£63.50 Redcroft
Greyface
£68.50 Dunesslin; £63.50 Torhouskie; £63.50 Midtown; £62.50 Torrs
BFL
£97.50 South Quintinespie
Beltex
£105.50 Torhouskie
Blackface
£55.50 Drumelzier Place; £54.50 castlegower; £50.50 High Barcaple; £48.50 Midtown; £48.50 Hannaston
Tups
BFL
£121.50 South Quintinespie
Texel
£124.50, £107.50 Grange
Blackface
£63.50 Castlegower
Suffolk
£107.50 Old Cluden