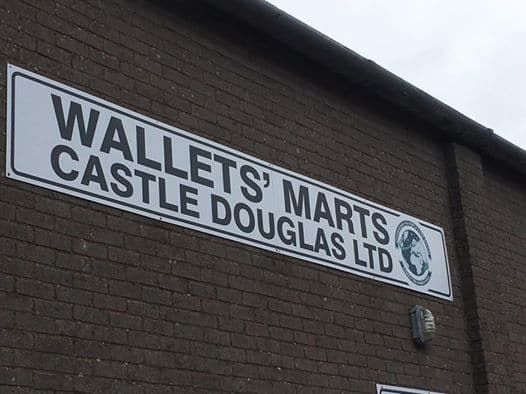 WALLETS MARTS CASTLE DOUGLAS LIMITED
MONDAY 3 JUNE 2019
STORE, OTM CATTLE AND BREEDING HOGGS
Wallets Marts Castle Douglas Limited staged their annual sale of Blackface and Scotch Mule hoggs, along with their fortnightly sale of store and OTM Cattle.
Blackface hoggs sold to average £123.80, a drop of £5 on the year.  Hoggs were shown in good bloom and were well bid for without the extreme rates of recent years.
Top today was an outstanding pen of hoggs from Messrs J W Kay & Co, Gass, Straiton at £170, closely followed at £168 for a powerful pen from Messrs W Graham & Son, Craigdarroch, Sanquhar and not far behind at £165 was Kirkland Farming, Kirkland, Sanquhar.
Topping the Crossbred Hoggs was a pen of Texels at £130 from Messrs R M Jameson, Garrochtrie with a pen of mules selling at £122 from the same home.
A small show of hoggs and lambs sold to £59 a life for Scotch Mules with Beltex lambs from Lowes Farming,
Corsock.
Blackface Hoggs
£170, £140, £135,£130 Gass; £168 Craigdarroch; £165 Kirkland, Sanquhar; £150, £128; £118, £112 Corsebank; £140, £116 Glen; £132, £125 Little Larg; £122 Glenmanna; £102 Linfairn
Greyface Hoggs
£122, £120, £120 Garrochtrie
Texel Hoggs
£130 Garrochtrie
WALLETS MARTS CASTLE DOUGLAS LIMITED
TUESDAY 4 JUNE 2019
WEEKLY PRIMESTOCK SALE
Wallets Marts Castle Douglas Limited on Tuesday 28 May 2019 had forward 286 Prime and Cast Sheep.
174 prime lambs sold to average 224.08ppk (SQQ 225.97).  A nice show for quality were well bid for with best quality three quarter bred lambs in high demand regularly 230+ppk.  Top today was 260.5 for Beltex from Messrs Bunting, Bridgestone, Glenlochar.  Commercial lambs were generally around 215 to 220 ppk.  Top per head was £115 for heavy Suffolk lambs from Messrs Boreland, Castlehill, closely followed at £114 from Messrs Williamson & Ross, Breckoniehill for Texels.
Prime hoggs sold to a top pf £99 for Suffolks from Wheatcroft with Blackface to a top of £97 from Little Larg.
Cast sheep were a two tier trade with overfat of all breeds being harder to sell.  Lean ewes were still in high demand although slightly less on the week to a top of £103.50 for Texel rams from Carleton Farms.
Lambs per head
Suffolk
£114, £114, £106 Castlehill, £107 Breckoniehill
Texel
£114 Breckoniehill; £104 Maryfield; £102 South Quintinespie; £101 West Barmoffity; £100 Barnbackle
Lambs per kilo
Beltex
260.5, 246.8 Bridgestone
Texel
255.7, 251.3, 244.2 West Barmoffity; 253.2, 242.3 Barnbackle; 242.3 South Qunitinespie; 239.7 Breckoniehill
Suffolk
237.8 Breckoniehill
Cast Sheep
EWES
Suffolk
£90.50 Wheatcroft
Texel
£89.50 Farhills; £80 Mull of Galloway; £75.50 Copelaw
Lleyn
£72.50 Auchenbainzie
Greyface
£62.50 Cotland; £61.50 Mull of Galloway
Blackface
£60 Castlehill; £54.50 Shirmers; £53.50 Copelaw; £52.50 Laghead
Tups
Texel
£103.50, £90.50 Carleton
Suffolk
£87.50 Copelaw; £78.50 Craigview