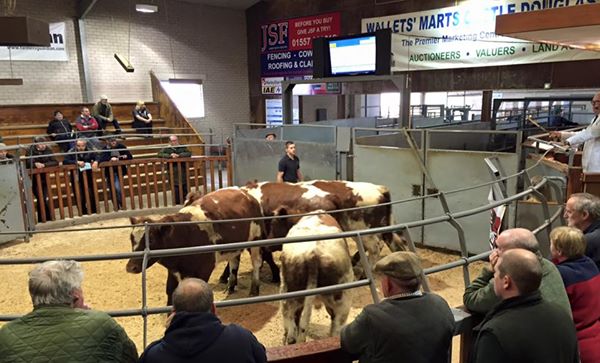 Wallets Marts Castle Douglas Limited continued their fortnightly sales of Store and OTM cattle on Monday 13th March 2017 when they sold 526 cattle.
513 Store cattle easily maintained recent high rates and despite being a slightly plainer show all classes sold dearer. Once again younger cattle looked the dearest with stronger types proving better value for money. Topping the bullock section at £1190 was a pen of Charolais crosses from J Wharton, Snade, Dunscore. Next up at £1180 were a pen of Limousin crosses from J Mitchell & Sons, Little Larg. Top price per kg for bullocks was 278.6p for Charolais crosses from Poldeen, Wamphray. Topping the heifers at £1275 was a pen of Limousin crosses from A Shaw & Co, Killochy. Top price per kg in the heifer section was 256.7p for Charolais crosses again from Poldeen, Wamphray. Bulls sold to £960 and 216.2p for Simmentals from Glenturk. Overall averages levelled at 234.44p for bullocks (£920.53 per head) and 221.15p for heifers (£827.17 per head)
OTM Cattle were once again well short of buyers requirements with OTM heifers selling to 172p per kg off Balcraig Moor; Cows to 162p off Kenmure and £1209.92 off Castlegower whilst bulls topped at 140p or £1276.80 off Glenturk. Overall average was 130p per kg.
Leading prices
Steers
33 Angus Top price per kg – 250.0p Average price per kg – 234.85p
£1045, £1010, £950 Balcraig Moor; £935 Garrochtrie; £915 Kenmure;
10 Saler Top price per kg – 249.20p Average price per kg – 232.34p
£930 Falbae; £885, £785 Fairgirth
117 Limousin Top price per kg – 258.30p Average price per kg – 235.86p
£1180, £1165, £1155, £1120 Little Larg; £1140, £1100 Snade; £1090 Glenhowl; £1090 Shangan
14 Luing Top price per kg – 277.00p Average price per kg – 242.89p
£870 Lochurr; £755, £745 Fairgirth
12 Shorthorn Top price per kg – 249.20p Average price per kg – 214.86p
£975, £935 Ardwall; £895 Ardwall
52 Simmental Top price per kg – 267.00p Average price per kg – 232.39p
£1125 Glenhowl; £1020 Mill of Plunton; £970 Graplin; £960 Killochy
5 South Devon
£980 Lochurr
86 Charolais Top price per kg – 278.60p Average price per kg – 245.40p
£1190 Snade; £1090 Shangan; £1045 Lochside; £1045 Little Larg; £1040 Meikle Labrax; £1015 Ardwall; £1005 Kenmure
2 Galloway
£940 Miltonise
Heifers
7 Angus Top price per kg – 202.90p Average price per kg – 194.67p
£925 Hill of Balmaghie
103 Limousin Top price per kg – 243.40p Average price per kg – 225.20p
£1275 Killochy; £1135, £1085, £1035, £1000 Little Larg; £1025 Meikle Cloak
6 Simmental Top price per kg – 222.10p Average price per kg – 219.13p
£960 High Park; £735 Drumhumphry
53 Charolais Top price per kg – 256.70p Average price per kg – 223.48p
£1030 Margrie; £1010 Kenmure; £990 Little Larg; £965 Lochside
4 Luing Top price per kg – 206.3p Average price per kg – 199.95p
£530 Fairgirth
Bulls
£960, £940, £930 Glenturk
OTM
Cows
£1209, £882 Castlegower; £972,£969, £854 Kenmure; £779 Balcraig Moor
Heifers
£851 Balcraig Moor
Bulls
£1276, £1215 Glenturk
Comments
comments