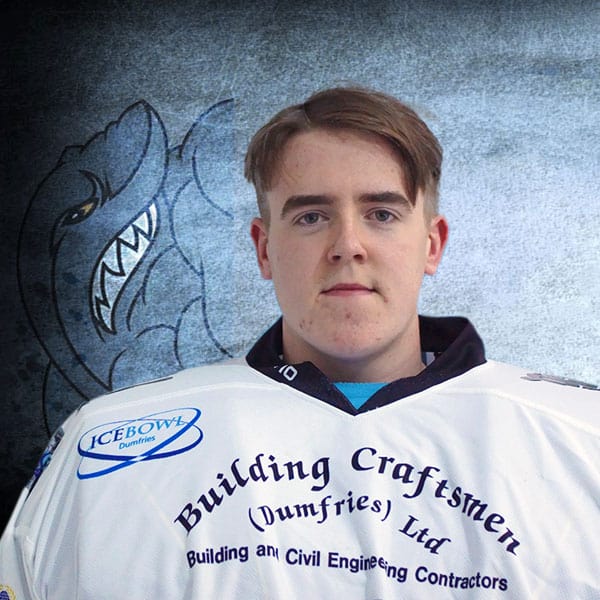 The Building Craftsman (Dumfries) Ltd. Solway Sharks are delighted to be able to bring 20 year old award winning goalie, Calum Hepburn back to the club for the 2017-18 season.
Calum is someone who grew up playing as part of the SSJIHC program before moving to the USA for school and hockey. Since returning he has played for the Sharks U20 and SNL team before signing a two way with Paisley Pirates and the Sharks and backstopped the team to last seasons treble as well as winning three awards at the end of season awards night.
Calum put in some very impressive performances as well as posting very good stats during the treble winning season and has grown into a real fan favourite and the club are happy to have him back to play his part in the new look Moralee conference.
Head coach Martin Grubb commented "I am delighted to be able to bring Cal back for next season as he was a massive part of what we achieved last year. He came in and was solid and very consistent and gave us confidence and a chance to win every night. I felt he grew into one of the best goalies in the league last year and he will only improve as he is still young and hungry to develop. I expect Cal to keep pushing himself to get better and I want him to prove he can be a starting goalie in this new league structure and I have no doubt he will do a great job for us".
Calum said "I am happy to be back for another season and want to improve on what I achieved last season. I felt that I did well last year and it is important that both myself and the team maintain that consistency and desire to win for the season ahead. I know I will need to prove I am the number one guy but I am confident in my ability. I would like to thank Paisley Pirates for their support last season with the two- way and can't wait to get this season started".
Calum will wear #30 and is the first name added to this seasons roster as the Sharks start to build for the campaign ahead.
For those of you who may not already know there have been a few changes in the National Ice Hockey League over the summer mainly due to the demise of the EPL. This season sees the Moralee Conference become a ten team league including former EPL teams; Hull Pirates, Sheffield Steeldogs and Telford Tigers while the Nottingham Lions have been promoted from the Laidler Conference.
This in effect means that the Sharks are now playing in the second tier of British Ice Hockey and can expect the standard of opposition to rise accordingly.
The end of season Play-Off picture has also changed with the league winners playing the team finishing eighth in a two-legged elimination match and the other six teams playing their respective opponents until only two remain. These two teams will then progress to a showpiece finals weekend and each other for a Division 1 North Championship. The victorious team will then meet the Division 1 South Champions to produce the British Champions.
There is lots of work going on behind the scenes at the Sharks at the moment, stay tuned for more signing news as the team takes shape.
Comments
comments