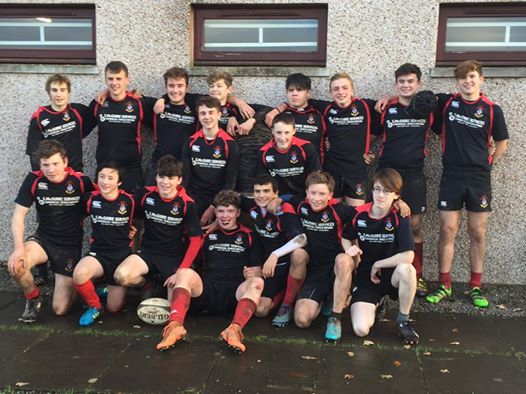 Stewartry Under 16's 19 v 0 Newton Stewart Under 16's
Newton Stewart turned up with only 9 players, so the fixture result was awarded to Stewartry. Stewartry gave six players to Newton Stewart to balance things up, and both teams proceeded to play one of the most entertaining games of the season, with very special mention to the 9 boys from Newton who played with huge heart and desire.
The first half ended 0-0 with both sides nearly scoring on a number of occasions, but great tackling on both sides stopping play short of the try line. Some great rucking by Frazer Potts, Luke Thomson and Kieran McGuire being one of the highlights of the first half, along with great cover tackles by Andrew Budde, Lochlann Spence and Archie Picken.
Stewartry turned up the heat in the second half and a charging run up the middle of the park by Connor McGuire resulted in a try for Archie Picken under the posts which was converted by Lochie Spence. Soon after another was scored by the ever improving Glen Duke who barged over the line from 25 metres out after some great rucking, Archie Picken converting. Archie Holman scored the last try of the day in the corner after good turnover ball.
The final ten minutes belonged to Newton Stewart and their Stewartry players who put constant pressure on the Stewartry line, however the Blacks were determined to keep a clean sheet and stopped them short of the line every time they needed to. Connor McGuire scrambled the ball into touch to end the game.
This now means that next Sunday's game on 19th March at home to Marr RFC from Troon ( Kick off 12.30pm)is now a semi final for a place in the final of the Chairman's Trophy against Whitecraigs RFC and a potential League & Cup double. The support of as many, friends, family, Stewartry players, committee members and local rugby fans as possible is needed to cheer on our hardy lads who hail from almost every town and village in the Stewartry.
Man of the match was shared between Andy Budde & Archie Picken, for sheer hard work and determination.
Scorers:
Tries – Archie Picken 1, Archie Holman 1, Glen Duke 1
Conversions – Lochlann Spence 1, Archie Picken 1
Squad:
Archie Picken, Daniel Maxwell, Fraser Forsyth, Alistair Wood, Gregor Todd, Lochlann Spence (Captain) , Archie Nicholson, Connor McGuire, Andrew Budde, Ryan Cochrane, Glen Duke, Casey Broomhall, Finnan Brown, Neil Herries, Tommy McGrath, Finlay Smith, Archie Holman, Luke Thomson, Joseph Strain, Frazer Potts, Kieran McGuire.
Comments
comments