Dumfries Cricket Club: Thornely Player of the Match in Dumfries Win
Sean Thornely provided the David Hardie Engineering Player of the Match performance in Sunday's Dumfries win against Carlisle at Nunholm in the Eden Valley League.
Dumfries chose to bat first and got off to a solid start with an opening partnership between Mat Williams and Adam Malik. Both were bowled, however, by Ferguson, Williams for 34 and Malik a boundary away from a retiral fifty with a score of 46.
Fergus Bainbridge and Jerry Goodin continued the progress with scores of 17 and 19 respectively. They were followed by Sean Thornely in at number five with the task of ensuring a good total. He was supported with a useful 18 runs from Callum Reynolds-Lewis and Thornely retired on 50 not out with the side reaching 217 for 5 after the 36 overs.
In reply Carlisle also had a substantial opening partnership. Clarkson also hit 50 retired and Taylor was only removed for 43, bowled, upon the introduction of Thornely into the attack. He followed that with the rapid dismissal of three further wickets to end up with figures of 4 wickets for 28.
Ferguson added to his bowling efforts with middle order runs for Carlisle. He was supported by Barker but with the run rate now increasing. The spin bowling of youngster Harith Hassan had Ferguson caught at cover for 40 and he and Aiden Goodin each took a further wicket both stumped by keeper Williams. Carlisle reached 190 for 8 for a 27 run win for the Dumfries Sunday Development XI.
The combined Dumfries CC and Galloway CC Women's side managed to replay their abandoned Scottish T20 Cup Quarter-Final by travelling to Glasgow on Wednesday evening to complete a reduced ten overs a side match against West of Scotland. The home side top order set a challenging target of 75 for 4 with scores in the twenties by the top three. The visitors bowled accurately and were rewarded with a wicket each to Emma Fordyce, Emily Barnard, and Niamh Muir who also claimed a run out. Good catches were taken by Sue Strachan, Orla Montgomery and Nicola Brown.
However the side then lost a key wicket in the first over with Lorna Jack caught on the boundary. Niamh Muir contributed runs as the other opener and Orla Montgomery added a run-a-ball 14 but the batting side ended short on 49 for 4. That put West of Scotland into one semi-final at the four team Women's Scottish Cup Finals Day to be held at Nunholm on the 5th September.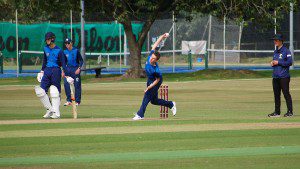 Prior to the rain which cancelled the Saturday league fixtures Nunholm hosted the Scotland Under-17s Super-Series during the week and which involved two Dumfries juniors. Max Corbett-Byers moved up from Scotland U15s and James Hobman got his first opportunity in Scotland colours. The Scotland squad enjoyed a productive stay with a 50 overs match on Wednesday and two T20 games on Thursday after a training day on Tuesday. This replaced a Celtic Cup Series against Ireland-U17s which was cancelled due to Covid difficulties. Club Chairman Andy Reed commented that it was good to be able to host a national team at Nunholm and also bring these overnight visitors to the town.
Dumfries Cricket Club can be contacted on dumfriescricketclub@gmail.com or on social media @dumfriescricket.