The British National Road Championships takes to the streets of Dumfries and Galloway this week, with the time-trial, circuit, and road race championships all set to be contested by the best of British. Here we've pulled together all the key spectator and broadcast information you need, and a few of our ones to watch.
Watching from the roadside
The time-trials take place against the stunning backdrop of The Crichton in Dumfries on Thursday 23 June, and spectators are invited to park at Mountainhall Car Park (DG1 4AP) which is a short walk from the start and finish of the races.
The Crichton has cafes, restaurants, toilet facilities and picnic areas, perfect for family viewing. If you'd like to watch the race elsewhere on the circuit, please be mindful of road closures and parking suspensions in place, which run from 9am to 6:30pm.
Friday evening will see the circuit races take place in Kirkcudbright town centre. Spectator parking will be well signposted as you approach Kirkcudbright from the A711 and will be in Archer's Field off Dee Walk. There will also be limited on street parking in and around the area. The start and finish of the race is on St Cuthbert's Street, which is around a five-minute walk from the car park.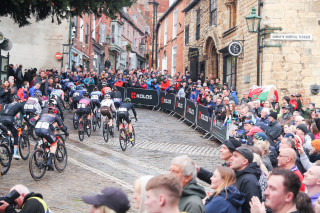 The road races on Sunday 26 June start and finish on King Street in Castle Douglas, with rolling road closures in place for the duration of the racing.  As a result, there are likely to be short delays for all road users, so do please plan your journeys carefully on Sunday 26 June to avoid disruption.
Dumfries and Galloway Council has arranged extra parking for visitors to Castle Douglas for the road races at the Garden Hill Health Centre, and there will be a big screen and family activities based on the grass area adjacent to King Street, two minutes from the race start/finish.
Route maps can be found here, while information on road closures can be found here. For a more in-depth look at our race routes, head to The British Continental.
Broadcast details
For fans not able to watch the races unfold from the roadside in Dumfries and Galloway, the racing can be viewed in the following places:
Road races (Sunday 26 June): Live coverage through GCN+, Eurosport Player and the British Cycling YouTube channel, plus a full highlights programme on ITV4 on Wednesday 29 June at 6pm.
Circuit races (Friday 24 June): Live coverage through GCN+, Eurosport Player and the British Cycling YouTube channel, plus a full highlights programme on ITV4 on Tuesday 28 June at 6pm.
Time-trials (Thursday 23 June): Updates and race clips shared through British Cycling social media channels, with highlights to follow on ITV4 on Tuesday 28 June at 6pm.
More information can be found here.
Ones to watch
Mark Cavendish will be looking to emulate his national road title winning performance in Glasgow in 2013 when he again takes to the roads in Scotland this weekend. Last year's road race winners Pfeiffer Georgi and Ben Swift will also be featuring, with Swift hoping to make it his third successive title. Ethan Hayter, Jo Tindley and Anna Henderson will also be looking to regain their titles from Lincoln last year in the circuit races and time trials.
Leo Hayter and Sam Watson will be two of 17 Dave Rayner Fund riders looking forward to an opportunity to race on home roads, with Hayter ready to make his mark after his Baby Giro win last week. Josie Nelson will also have high hopes off the back of her fantastic victory in the CiCLE Classic last weekend, and breakthrough performance in last year's national championships in Lincoln.
Scottish rider Finn Crockett has had a strong start to the season and is another one to watch, featuring in all three events over the week, while Dumfries local Rebecca Saunderson will be itching to get started on her home roads.
More information on the riders competing, and the full rider lists, can be found here.
Race timings
Time-trials
10:00 – Under-23 men
10:50 – Under-23 women
13:45 – Elite men
17:15 – Elite women
Circuit races
17:00 – Women
19:00 – Men
Road races
09:00 – Women
13:30 – Men
All eyes on 2023!
This week's championships is just one of a number of the sport's showpiece events taking place in Scotland this year, as preparations continue for next year's UCI Cycling World Championships – bringing together 13 world championship events into 11 scintillating days of racing.
Scotland has developed a proud track record of being one of the world's leading cycling destinations to race, ride and spectate, and we can't wait to be back in Dumfries and Galloway next August for the Para-cycling Road events.
Ahead of this week's event, Paul Bush OBE, VisitScotland Director of Events, said:
"Scotland is one of the best places in the world to experience cycling events and Dumfries and Galloway will provide the perfect stage for this year's British National Road Cycling Championships.

"EventScotland is delighted to be supporting the Championships, which is part of an exciting calendar of sporting and cultural events that are playing an important role in our communities by giving everyone the chance to once again come together and share memorable experiences."
British Cycling would like to thank EventScotland and Dumfries and Galloway Council for their support in bringing the event to the region this week.
Join the conversation!
Whether you're in Dumfries and Galloway or watching at home, send thoughts and photos to us on Facebook, Twitter and Instagram using the hashtag #NationalRoadChamps, where we'll be sharing our exclusive content and behind the scenes footage throughout the event. You can also share your photos and videos with us directly using this link.