Dumfries Cricket Club are making every use of the Sunshine and the All Stars Programme is set to return to club based at Nunholm this Monday (20 May)  Last year over 50 children aged 5-8 years signed up to the sessions and they were enjoyed by everyone as the develop fitness, coordination in a very fun environment.  Children wishing to take part can sign up to the sessions on a Monday 6-7pm or the Tuesday 5-6pm and will receive a bat, ball, t-shirt, water bottle and bag. https://allstarscricket.co.uk/dumfriescricketclub
Also returning for this Summer will be the women and girls fitness session known as CricHIIT.  High intensity exercises using the core principles of cricket, participants need to experience of cricket and all levels are welcome down at the club, there is a real opportunity for parents to take part in the fitness session, whilst their children are involved in the All Stars session on a Monday.
This weekend saw a near full fixture programme, with the junior games for the Under 11s, Under 13s, Under 15s.  The 2nd team (Nunholm) were in action along with the Sunday Development Team, however there was no play for Croma Vigilant Dumfries who saw a waterlogged pitch when they visited Weirs and the Women's Team fixture against the West of Scotland fell foul to a fixture clash in the Nationa Womens Premier League competition.
Friday 10 May 2019
Thirteens Carry on in Carlisle
Carlisle U13 63 all out v Dumfries U13 94 for 6
Dumfries came back from Edenside with a well deserved win against a good Carlisle side to add to their victory against Wigton.
Once again the Nunholm youngsters batted first and were put under early pressure but this time with only the loss of 3 wickets. It was Max Corbett-Byers' turn to start the comeback, retiring on 30, including a 30-run partnership with Fergus Cubbon who then became the dominant figure in a 25-run partnership with young brother Munro.
A total of 94 was by no means unbeatable but tight bowling from the, what is becoming formidable, opening partnership of Anderson and McBurnie put Dumfries on top, if only marginally as only one wicket fell. The change bowlers could not get the breakthrough either but the game suddenly swung when Nairn Cubbon recovered a fumble to brilliantly run out the dangerous Du Plessis. This was followed by an inspired piece of captaincy by Matthew McBurnie who brought himself back on to uproot the stumps of the equally dangerous Titterington first ball of his over.
From then on a clinical fielding display made sure that there was no way back for Carlisle. Another run-out, a safe pair of hands and a couple of wicket maidens from Katy did the trick.
Dumfries Thirteens 94 for 7; Max Corbett-Byers 30, Fergus Cubbon 26, Matthew McBurnie 11*, Alfie Moran 2 for 8
Carlisle Green U13s 63 all out; Matthew McBurnie 3 for 6, Katy Anderson 2 for 8
1 wicket each for Alex McMenemy, Aiden Goodin, and Jacob Holden
McBurnie Removals Player of the Match: Matthew McBurnie
Saturday 11 May 2019
Narrow defeat despite Alexander Aces another bowling masterclass
Nunholm 91 all out v St Ninians 95 for 7
Injuries and absences were the main talking points before a ball had even been bowled as a young Nunholm side were narrowly defeated by St Ninians on Saturday.
Nunholm, who made a series of late changes on Saturday morning, won the toss and elected to bat first and the St Ninian bowlers were immediately on target claiming an early wicket.  Mat Williams and Sean Thornely provided good defensive form and kept the bowlers at bay, until they both fell, with Williams out leg before and Thornely bowled when the spin of Rao was bought on.  Runs were hard to come by during the innings and it was Patrick Corkery and Cameron Telfer who manager double figures, but Telfer was dismissed with a ball that kept low and Corkery was run out.  The lower order provided little resistance and Nunholm were dismissed for 91.
Nunholm returned after teas to bowl with the matchball sponsored by LiteBites @ Queen of the South Arena. It was Stuart Alexander with the new ball who once again had the batsmen in trouble and picked up the first 3 wickets, two of them dismantling the stumps as he cleaned bowled them.  Orla Montgomery had one of the moments of the match to dismiss Kennedy as she took a sharp catch off a no-ball, but had the awareness to complete the run out.  St Ninians were beginning to rock under the Nunholm pressure, Alexander picked up two more wickets to make it a second week with a 5-wicket haul and Sean Thornley got Thayne to mis play his shot and was caught by Montgomery.  St Ninians were 7 down and still required 20 for the win.  Nunholm battled away but were unable to make the final breakthrough it needed to claim the victory.  Nunholm remain in 3rd place in the league and have a tough fixture away to Titwood on Saturday.
Hole in the Wall Man of the Match: Stuart Alexander
Nunholm (5) : 91 all out in 36.1 overs.
C Turner 3 for 14, E McBeth 2 for 19
St.Ninians (25) : 95 for 7 in 26 overs.
S Alexander 5 for 26
Sean 1 wicket, 1 run-out (Orla)
PHOTO: 20190511 0323 St Ninians – S Alexander: Stuart Alexander picks up his second 5 wicket haul against St Ninians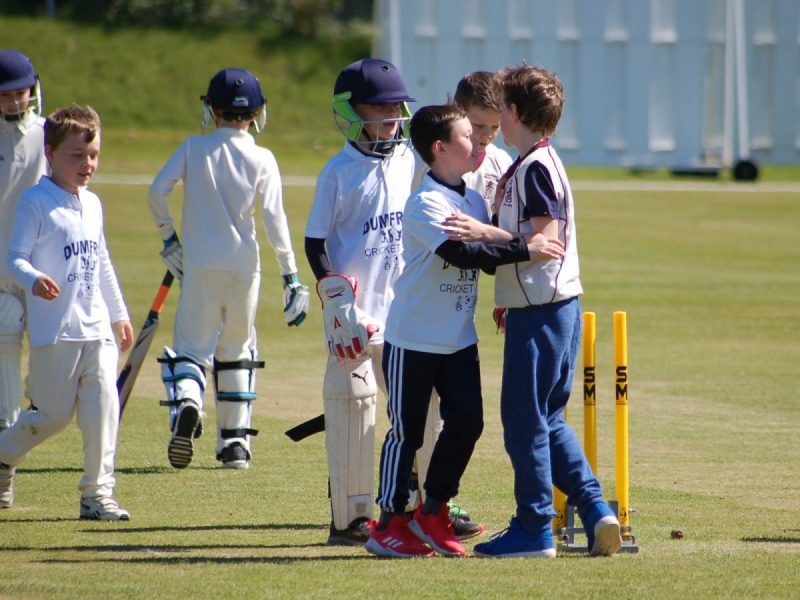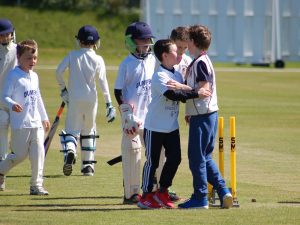 Sunday 12 May 2019
Dumfries' Dawson Delivers
Dumfries U11 241 for 2 v Wigton U11 290 for 9
Dumfries Cricket Club Under 11s team were beaten by an experienced and strong Wigton team on Sunday.
Dumfries batting first opened with a solid performance by the all female pairing of Sarah Cox and Macie Corbett-Byers.  Runs were hard to come by, but the score was ticking along nicely as they were followed by Cory Dawson and Zack Bass.  The game is played in pairs and the team lose 5 runs for every wicket and Dumfries did well to stay in and only lost 2 wickets throughout the 16 over innings.  Billy Morgan and William Middlemiss provided a platform for the Cubbon (Munro and Nairn Cubbon) twins to attack in the final 4 overs.  Munro ended as Dumfries' top scorer in the innings with 11 runs of just 13 balls.
The strong Wigton side were then shocked in the early partnerships as Macie Corbett-Byers picked up two wickets, and some excellent work in the field by the team to restrict runs.  Cory Dawson and Munro Cubbon also both shone with the ball.  Dawson was getting good movement with the ball and picked up 3 wickets in his 3 over, whilst Munro Cubbon picked up two wickets near the end.  The Wigton batsmen, however managed to find the runs they required, but at the cost of 9 wickets.  This has been an excellent showing by a new team in the league and Dufmries Cricket Club look forward to seeing what they can do in the second round of fixtures.
Man of the Match: Cory Dawson
Aiden tops off Sunday win with 5 wickets
Croma Vigilant Dumfries Sunday 100 for 0 v Langholm CC 99 all out
The Sunday Dev XI won at Langholm thanks to 5 wickets from Aiden Goodin and an unbeaten century stand by Adam Malik and Fergus Bainbridge.
On a day warm enough for the beanie to come off, Dumfries travelled to Langholm in the Eden Valley Sunday league, and managed to return with an imposing ten wicket win.
Captain Kyle won the toss and chose to put the hosts in. After settling in Callum Reynolds-Lewis got things going by dislodging both openers. The introduction of spin with Aiden Goodin, backed up by Declan Brooks and Max Corbett-Byers, proved effective for the away side. The remaining eight wickets were shared between them, with Club junior Goodin bagging his maiden five wicket haul by taking an impressive 5 for 31 from his eight overs.
In reply to the 99 total set by Langholm, both young Dumfries openers never looked troubled in producing a century opening partnership. Adam Malik ended on 46 not out and Fergus Bainbridge hit 36 not out as Dumfries reached 100 for no loss. Dumfries hope to back up their victory with another strong performance at home to Appleby next Sunday.
The Dumfries Player of the Match was Aiden Goodin.
Langholm 99 all out
Aiden Goodin 7.5 overs 5 for 31,
Callum Reynolds-Lewis 2 wkts, Declan Brooks 2 wkts, Max Corbett-Byers 1 wkt
Dumfries Sunday Dev XI 100 for 0
Adam Malik 46no, Fergus Bainbridge 36 no
Monday 13 May 2019
Corbett-Byers gets the max but Dumfries KOd
Dumfries U15 128 for 5 v Lanercost U15 128 for 7
Dumfries Under 15s were away at Lanercost on Monday for their first round cup match which ended in a tie to start with and then elimination after four overs of extra time.
Dumfries, down to 8 players instead of 11, won the toss and elected to bat first, but, unlike last week, the openers were hit by an early wicket when Fergus Bainbridge fell for 0. James Little managed to get to 14 before he too was caught for 14.  Sean Thornely hit a couple of boundaries and was also caught out. James Hobman and Max Corbett-Byers managed a good partnership, though, after Vaughn Staples was bowled for 2. James Hobman finished on 24 before being caught. Max kicked on and hit a superb six when he was on 29 to retire on 35, the team's top score. For a small team they needed to bat out the 20 overs and Aiden Goodin and Katy finished not out with the total on 128.
Lanercost started briskly with Mitchelson and T Wood hitting out hard and put on 35 runs in the first four overs, but they took risks and Dumfries dropped several important catches early in the Lanercost innings, this was to prove very costly and probably made all the difference.
It was the bowling change of Vaughn Staples which got the breakthrough when he bowled Wood for 20, his partner batted out to retire at 30. Their number three also followed not long after, caught Thornely bowled Goodin but their 4 and 5 batsmen got set and it seemed as though the total wasn't going to be big enough. However, Katy Anderson and James Hobman came back on and took out Skeer (26) and Bradshaw (13) and suddenly it seemed like the game was on again. Max Corbett-Byers got a double wicket maiden by bowling Evans and A Wood for ducks. They needed 8 off the last and Thornely's wicket on the last ball meant it was a tie. Neither team wanted a replay so both agreed to have 2 more overs each in the darkening shadows of Lanercost Priory. Lanercost scored 11 and Dumfries scored 9 so the home team went through.
Moduals Man of the match: Max Corbett Byers
Dumfries 128 for 5 (M Corbett Byers 35 retired, J Hobman 24)
Lanercost 128 for 8 (J Mitchelson 30 retired, G Skeer 26) (M Corbett Byers 3-15, A Goodin 1 for 10)