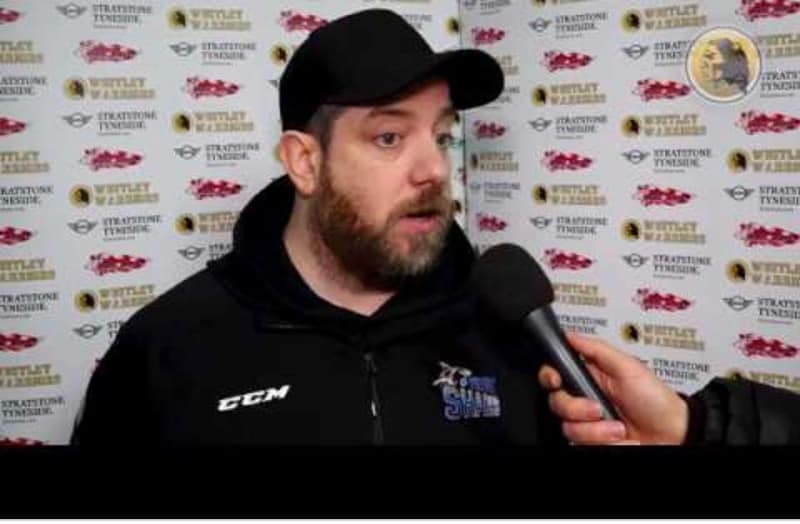 Solway Sharks and coach Martin Grubb are already looking ahead to the new ice hockey season, which starts on 31 August with a game against Belfast at Dumfries ice bowl at 6pm.  The team will once again compete in the NIHL1 Northern league and cup competitions, but this season there will also be the added challenge of a return to the Scottish National League, adding more games and the test of different clubs to play against.
With the emphasis on building for the future head coach Grubb has made acquiring and developing young players one of his priorities, with no fewer than 12 of the new squad aged 21 or under, 9 of these products of the local Solway Juniors development pathway.  Retaining some of the more experienced players from last season, including captain Struan Tonnar, there is a balanced feel to the team, with an abundance of experience and gametime to provide guidance and direction to the developing players.
The squad will be further strengthened this week by the return of Slovakian fan favourite Peter Gapa, and the arrival of Finnish forward Jaakko Heiskanen – both will be looking to make an impression early on, and this will only add to the competition for starting places in the team.
Looking ahead to the upcoming season, Grubb told DGWGO Sports News, "We were all disappointed by how last season ended and with the league restructure it was always going to be an interesting summer.  We have lost a number of players but we are a victim of our own success, and we have shown our development pathway has worked with several players moving up a level to the new NIHL.  We've had a few guys need to take time out to complete studies and James Hutchinson has retired, but every club always has to rebuild at some point and this is an opportunity for this new and exciting young team.

I am excited by the speed, skill and compete level in this years team and it's a good mix of youth and experience.  We have an opportunity to develop this team and build another successful team like we have in the past and the players are aware of the expectations this season.

When recruiting it was important to have a core group of experienced players and with Struan Tonnar, Kyle Horne, Iain Bowie, our two imports and Gary Russell I think we have a solid base to build on and these young players will thrive working alongside these guys.

The fact we are in two leagues is exciting and gives us an opportunity to compete against different teams and create new rivalries for our supporters and we are determined to bring success in all competitions.  With losing so many players we are in a different position than before and almost going into the leagues with less pressure as underdogs to teams like Whitley and Murrayfield, but I know we will surprise people with our quality and I have no doubt that this team will improve every week and be challenging for honours, and we look forward to putting on performances every week that our supporters can be proud of."
Admission to the Belfast Giants game on 31 August is at the reduced price of £5 for adults, with kids for a quid as usual.