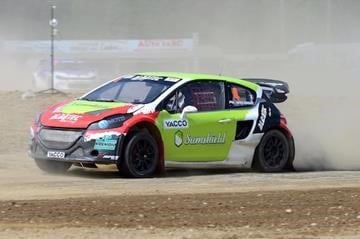 Dumfries, Scotland (UK) — 14 July 2017: Philippe Maloigne finished seventh in the latest round of Rallycross France, and left the event with the outright fastest lap and fifth place in the overall standings. The Albatec racer powered his 600bhp Peugeot 208 RX Supercar to the fastest lap in practice and warm-up, and twice in the qualifying heats, and ended the day with the track record to his credit.
Heading into the event at Lavaré the SamShield-backed racer was on perfect form in Saturday practice, steering the two-litre, 16v Peugeot to the top of the times sheets and giving the former motocross racer an early psychological advantage over his rivals.
Lining up for Q1, the Frenchman showed the form that twice netted outright victory in 2016, setting an even faster race lap on his way to third overall. His pace continued into the second qualifying race with the third fastest lap, although excessive dust caused visibility issues, leaving him sixth overall.
Sunday morning warm-up again saw Philippe on top and was immediately followed by Q3, where he started from pole position. Despite a small mistake he went on to take the win, the fifth fastest overall lap time, to lie fourth overall.
The fourth and final qualifying race proved difficult for the Albatec racer, but also saw a recovery that matched his determination. Starting on new tyres, Phillippe was pushing for another race win, however a first lap incident pushed him off the track and down the order. Re-joining the track, he fought back to set the fastest lap each lap, culminating in the outright lap record on lap three with a 43.019sec lap. His combined results kept him easily within the top 12 qualifying positions.
Starting from row two for his semi-final, the newly watered track threw up its own challenges, including a lot of contact as the cars scrabbled for grip. Fourth position ensured a place in the Final, but once again it meant he would start from the back and with a monumental task ahead.
As the lights went, Philippe made a good start, but a car ahead suddenly suffered gearbox problems and stopped on the straight right in front of Philippe, leaving the Albatec driver nowhere to go. The subsequent contact caused damage to the front of the #4 Peugeot and hampered Philippe's progress, as he struggled on to finish seventh.
Andy Scott, Team Principal Albatec Racing:
"Philippe once again showed incredible speed across the whole weekend. We have the car exactly right, with set-up and strategy, we now need just a little luck so he can convert the pace and reliability into the results we know he's capable of."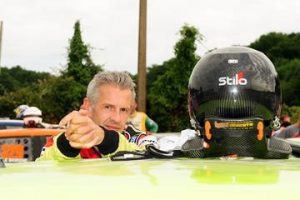 Philippe Maloigne, Driver Albatec Racing:
"After practice I was very happy, and feeling confident going into the races. The track is an evolution of the old one, it's much faster and our set-up and performance was very good. Across the first three qualifying races we had a number of small problems, like the dust in Q2 and a mistake in Q3, but I really should have won the fourth. We'd saved the tyres for that but I just couldn't avoid hitting the car that stopped in front of me, which compromised my whole weekend.

"To come away with the fastest lap is some consolation, but we really could have been fighting at the front in the semi and the Final. Over the weekend we were really fast and competitive so of course it's disappointing as we had the capacity to win and didn't deserve the result we left with. It just makes me more determined to get back onto the podium in the next race."
Images ©Adecom
Comments
comments