After a hugely successful meeting in 2018, it is great to be returning to the fantastic venue of Drumlanrig Castle for another year.
For this years event we are delighted and privileged to announce that our Guest of Honour is 4 times world motocross champion 'The Flying Finn' Heikki Mikkola. Heikki will be on site on Friday evening for the opening ceremony and will be interviewed by John Moffat in the marquee on Saturday night. He will also be assisting with the trophy presentation on Sunday and will be available at times throughout the weekend for autograph signing etc.
A full race programme with over 40 races on Saturday and Sunday which follows grasstrack racing on the Friday evening starting after a traditional Scottish opening ceremony. Other entertainment over the weekend in the marquee includes, a DJ on Friday night, Ladies Hour on Saturday (after the racing is finished) and a ceilidh band immediately after the interview with Heikki in the evening. A full weekend of events with something for everyone, trade stands, food and drink outlets and of course all the attractions that the Castle has to
offer, gardens, mountain bike trails etc.
Admission costs are £10 day pass; £15 weekend pass; camping at £10 per pitch which is available from midday Thursday to midday Monday.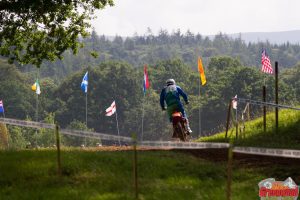 NEXT EVENT Saturday 20th July Grasstrack and Sunday 21st July Classic and Twinshock Motocross both at Cumston farm Lockerbie (New track) Trials
In the long history of The Galloway Motorcycle Club we have never run Trials and, being keen to develop our Club's overall motorcycling activities, we are pleased to announce we will be putting on five Trials this year including a round of the SACU Scottish Classic Trials Championship for Pre'65, Twinshock and Air Cooled Mono bikes. The other four trials will qualify for our own Galloway Motorcycle Club Trials Championship for Club members.
Road Runs
We are also running a series of four Road Runs taking in our four regions. With one completed our next is 'The Castle Caper' on May 16th which launches The Scottish Classic Grand National Scramble event, followed by 'Heart of Galloway' on July 7th and finally 'Doon the Shire' on October 6th.
Additional
We have teamed up with two charities this year Help for Heroes and The Dumfries and Galloway Blood Bikes.
Our main sponsor for the Drumlanrig Scramble event is AMD Contract Services Limited.
We are looking to recruit new members and helpers for all our proposed events. Each event and role will be varied and include:
Marshalling at Scrambles and Grasstracks; Observing at Trials; Organising Road Runs; Assisting in building and dismantling tracks, sections and road runs etc. As we
are affiliated to the SACU you will be fully trained, supported and supervised at special training exercises.
Further information on The Galloway Motorcycle Club and it's events can be found on our website www.gallowaymcc.com and on our facebook page.
The Galloway Motorcycle and Light Car Club was formed in the 1930's and grew to become one of the largestclubs in Scotland inspiring many talented riders and champions.
The Club closed in 2011, but in 2017, due to the enthusiasm of two keen local classic scramblers, a group was formed to run a classic scramble at Drumlanrig Castle.
The event proved successful and encouraged the two to form a local club to be run under the auspices of the SACU which would appeal to all motorcycle enthusiasts.
In 2018 The Galloway Motorcycle Club Ltd was reformed and by the end of the year had established a membership nearing 150.
Comments
comments