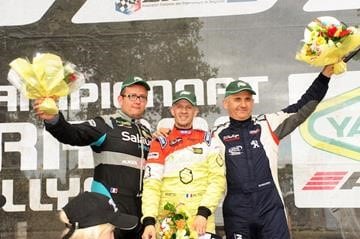 Philippe Maloigne took a solid win in round five of Rallycross France in Kerlabo on Sunday, powering his SamShield-backed Albatec Peugeot 208 RX to a 1.3 second advantage over Jonathan Pailler. The Frenchman was never out of the top three across the four qualifying heats, including outright victory in Q3 on Sunday.
Second in his semi-final put him on row two for the Final and despite a sudden downpour just before the start, a controlled drive over the seven-lap race earnt him his third French RX win and first of 2017.
Celebrating its 20th anniversary in 2017, Rallycross of Kerlabo enjoyed a 22-strong Supercar entry, that included the return of Dumfries racer and Albatec Team Principal Andy Scott. After a year away, Andy returned to Kerlabo looking for a solid result, and delivered the goods, leaving France with fifth place in the ultra-competitive championship.
Consistent lap times across the heats kept him in the hunt for a place in the Final from the off, but a heavy hit in Q4 compromised his overall position. As a result, he started his semi-final from the back row, but he made it through to the final, where a determined drive from the double British RX vice-champion netted fifth.
Rallycross France now enjoys a summer break and resumes in Pont de Ruan over the weekend of 26&27 August.
Andy Scott, Driver and Team Principal Albatec Racing:
"It's great to be racing in rallycross again. Although I'm a little disappointed with the result, I'm happy with my pace as I was consistently setting top times all weekend. The first three races were pretty uneventful, but I was looking good for a win in Q4, leading into the second corner until I took a heavy hit.

"That dropped me down the order, and onto the back row for the semi-final, which isn't great at Kerlabo as everyone funnels into the first corner, so a good start in necessary. After a year away fifth is a good result; the speed we had across the races meant we could have been in a podium position had we been able to start higher up the grid. Overall it was a positive weekend. Philippe did a great job all weekend, consistently at the front across both days he kept his pace in every race, and I'm very happy for him."
Philippe Maloigne, Driver Albatec Racing:
"I'm very happy to win in Kerlabo, thank you to the entire Albatec team who did an incredible job. We had good pace all weekend, the opening race was straightforward, but I made a small mistake after the joker lap in Q2 which cost me some time, but I still managed third fastest. Taking the overall win on Sunday morning was a good start to the day, but in Q4 I had some contact that damaged the steering.

"For the final, it started to rain just before the start, so we changed to rain tyres, and a good joker strategy and the hard work of the mechanics, allowed us to take our first win of the year."
Images: ©Adecom
Comments
comments