On the 14th and 15th of this month, the Solway Sk8ing Club finally returned to competitive Synchronised Skating with their first competition of the season, Skate London, at Alexandra Palace. The three teams were up against some stiff competition but walked away with medals all around!
Day one kicked off with Solway Comets competing in the Beginner category, debuting their new routine 'Jungle Book'. After a crowd pleasing performance they walked away with a bronze medal! The attention then turned to Solway Stars, Junior ISU, who skated their short program 'Peter Gunn' they wowed the audience and ended their first day in first place!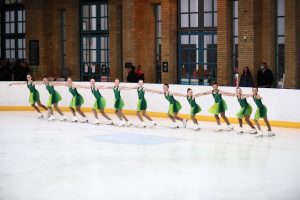 Day two started with Solway Eclipse in the mixed age category, skating to a mashup of songs from 'The Triplets of Belleville' and 'Under Paris Skies'. They skated beautifully and won themselves the gold medal! Finally, Solway Stars took to the ice for their new and dramatic free program, 'Beetlejuice'. They entertained the judges and went home with a silver medal after breaking the 100 point mark!
Chairperson Lindsay Henderson had this to say about the competition, "What an amazing weekend for our Club! I'd like to send the biggest congratulations to all of our skaters and coaches on a successful competition after such a long time. A huge thank you to all our volunteers involved, who work hard behind the scenes to make it happen. And finally to our sponsors, who without, competitions like this wouldn't be possible. It's good to be back!"
The Solway Sk8ing Club would like to extend a special thank you to our sponsors this season so far, Gordon's Construction Equipment, Solway Machinery Sales Ltd, Al's skate shop, Kip McGrath Dumfries, Currie Solutions, Archibald Buildings Ltd, Ashleigh Scotland Ltd, Dumfries and Galloway Council Region wide Community Fund and Cash for Kids. If you are interested in sponsoring our teams this season or in future, please get in touch.
Next up on the calendar is the Skating Club's Christmas Fayre! Taking place on the 18th of December from 11am – 2pm with free entry to skate and with skate hire as well as Craft Stalls, Santa's Grotto and more! We wish to welcome all who are interested for a fun day of skating and Festive fun!