Dumfries and Galloway Motorsport Star Ross Wylie has written himself into the history books of one of the world's most famous motor racing marques. The Scotsman, along with co-driver Paul Bailey, scored the first-ever victory of a "customer" racing Brabham BT62 Competition sportscar when the duo placed first in the GTO category of its maiden GT Cup race last weekend (5 Jun).
The stunningly attractive green and gold sportscar of Wylie/Bailey, denoting Brabham's historic Australian heritage, finished third overall in the 36-car field after 50mins, just 30secs behind the winning, more modified car. The event marked the début of the SB Race Engineering prepared Brabham – founded in 1960 by triple F1 World Champion Sir Jack Brabham O.B.E., of Australia.
Wylie took over from sportsman driver Bailey on lap 14 of Saturday's 26-lap race, Ross going on to underline his terrific pace by setting the outright fastest lap time, incredibly over one-second quicker than the next fastest car around the 2.97-mile Norfolk circuit. Ross's next race is later this month (26-27 Jun) when he returns to British GT Championship at the wheel of a Lamborghini Huracán at Silverstone.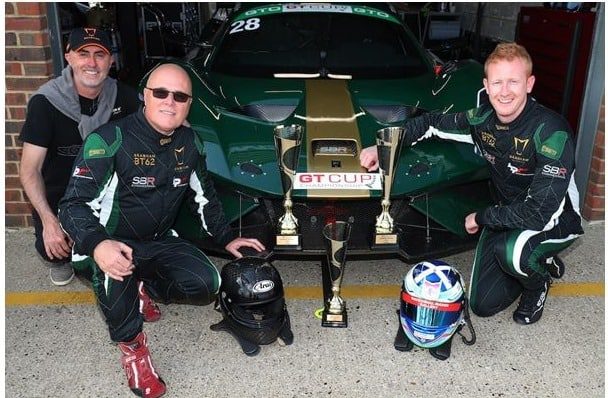 Ross Wylie (GB):
Age 29. Born & Lives Thornhill nr Dumfries, Scotland:
"It's a huge honour to have scored Brabham's first-ever 'customer' racing victory in the world for the BT62. We arrived at Snetterton with very little testing mileage under our belts. With a new car there are always a few teething problems but we overcame those issues. I've been involved with the development of the Brabham since 2019 and so have seen first-hand how the car has evolved.

"Paul is a sporting 'Am' driver so it has also been a case of building his confidence in his new car. He drove very well, handing over the car to me in a solid position so that I was able to make-up places towards the front. It was a fun stint for me, chasing the cars down, which was ultimately rewarded with the class win and overall podium which the team dearly deserved. It was also lovely to have David [Brabham] present."